Los Angeles — June Allyson, the sunny, raspy-voiced "perfect wife" of James Stewart, Van Johnson and other movie heroes, has died, her daughter Pamela Allyson Powell said Monday. She was 88.
Allyson died Saturday at her home in Ojai, with her husband of nearly 30 years, David Ashrow, at her side, Powell said. She died of pulmonary respiratory failure and acute bronchitis after a long illness.
During World War II, American GIs pinned up photos of Rita Hayworth and Betty Grable, but June Allyson was the girl they wanted to come home to. Petite, blond and alive with fresh-faced optimism, she seemed the ideal sweetheart and wife, supportive and unthreatening.
"I had the most wonderful last meeting with June at her house ... We were such dear friends. I will miss her," lifelong friend Esther Williams said.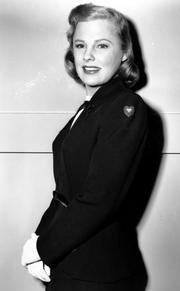 With typical wonderment, Allyson expressed surprise in a 1986 interview that she had ever become a movie star:
"I have big teeth. I lisp. My eyes disappear when I smile. My voice is funny. I don't sing like Judy Garland. I don't dance like Cyd Charisse. But women identify with me. And while men desire Cyd Charisse, they'd take me home to meet Mom."
Allyson's real life belied the sunshiny image she presented in films of the '40s and '50s. As she revealed in her 1982 autobiography, she had an alcoholic father and was raised by a single mother in the Bronx.
Born Eleanor Geisman on Oct. 7, 1917, Ella was 6 when her alcoholic father left. Her mother worked as a telephone operator and restaurant cashier. At 8, the girl was bicycling when a dead tree branch fell on her. Several bones were broken and doctors said she would never walk again. Months of physical therapy helped her to defy that prognosis.
She tried out for a chorus job in a Broadway show, "Sing out the News." The choreographer gave her a job and a new name: Allyson, a family name, and June, for the month.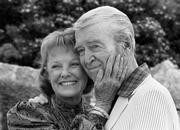 After several stage roles, MGM signed her to a contract, and she appeared in small roles.
Then in "Two Girls and a Sailor" (1944), her winsome beauty and bright personality connected with U.S. servicemen. She starred in "Music for Millions," "The Sailor Takes a Wife," "Two Sisters from Boston" and "Good News."
Allyson appeared opposite Johnson in several films, and she was Stewart's wife in "The Stratton Story," "The Glenn Miller Story" and "Strategic Air Command."
After her film career ended in the late '50s, Allyson starred on television as hostess and occasional star of "The Dupont Show with June Allyson." The anthology series lasted two seasons. In later years the actress appeared on TV shows such as "Love Boat" and "Murder, She Wrote."
For the last 20 years, Allyson represented the Kimberly-Clark Corp. in commercials for Depends and was championed the importance of research in urological and gynecological diseases in seniors.
Copyright 2018 The Associated Press. All rights reserved. This material may not be published, broadcast, rewritten or redistributed. We strive to uphold our values for every story published.