Small puddles surrounded the eighth hole of Alvamar Golf Club on Sunday. Rain caused soggy, darkened bunkers and thick rough.
The conditions didn't stop Conrad Roberts from chipping in from the rough for an eagle on the eighth hole. This was just part of his convincing seven-stroke victory in the men's championship flight of Lawrence Amateur Golf Assn.'s Big Event. He shot 70 at Alvamar on Sunday after shooting 68 at Eagle Bend on Saturday.
"I was told before going out that there were going to be some tough pins out there," Roberts said. "You just play conservative from there. My gameplan was 18 pars."
Roberts, 31, dominated the tournament with his consistency. He plays at Alvamar three times a week and was noticeably familiar with the course.
He finished the 18th hole fittingly. With a 30-foot birdie putt and a six-stroke lead on the last hole, Roberts figured he would two-putt his way to victory. Roberts' putter made contact with the ball, which broke right to left and traveled down a small hill. The ball tracked the hole and made every golfer's favorite sound - a soft clicking sound from the ball settling in the hole.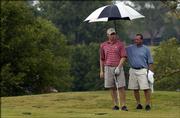 "That was a putt that you just want to get on top of that hill and let it filter down," Roberts said. "It's just one of those that you roll at the hole, and it happened to go in."
Roberts set the tone from the first hole when he drained a six-foot putt to save par. The competition couldn't match Roberts' consistency.
Adam Stanley, who played in the final group with Roberts, was noticeably frustrated after he missed a 4-foot par putt on the 17th hole. Roberts had the tournament in control at that point. As a result, Stanley finished out the bogey and immediately tossed his golf ball into the lake, as if trying to forget about the moment.
With consistency came a levelheaded, stoic individual on the course in Roberts. When he chipped in for eagle on the eighth, Roberts didn't show off. He picked up his ball and got ready for the next hole. He said he learned to keep this type of attitude in 1997, when he came from Wales to Lawrence to play golf at Kansas University.
"I try not to get too emotional out there," Roberts said. "That goes back to Ross Randall, my coach at KU. He told me to keep your emotions inside you and just play the game."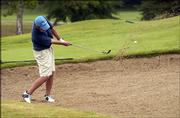 Nick Burkart, who also played in the final group, was familiar with Roberts' style of play. Burkart, 17, works at Alvamar and said he noticed Roberts shot under par nearly every time he played the course.
"He's a good player and I expected a lot," Burkart said. "He hits straight shots every time and just keeps the ball in play and makes his putts."
Burkart, a senior-to-be at Free State High, fell off the leaderboard radar on Sunday with an 82. With one year still left in high school, he hasn't committed to any college, but wants to play or teach golf in the future.
The rain fell for the entire front nine, but faded away by 4:15 p.m., in time for the back nine. The moist conditions didn't affect Roberts at all.
"Being from Wales, which is a very wet country and we have a lot of rain, it didn't bother me one bit," Roberts said. "It made the golf course a little harder length-wise, but it made the greens a little easier because they were softer."
Stanley finished the tournament in third, while Greg Sharp finished in fourth.
¢ The most impressive shot of the day came from Randi Robertson, 19. The freshman-to-be at Harding University nailed a hole-in-one on the 12th hole.
"I just hit an 8-iron, and there was no wind, so I aimed straight for the hole, and it bounced twice and went in," Robertson said. "I jumped up and down a couple times. It was my first hole-in-one, and my family's a golfing family and nobody in the family has ever had a hole-in-one."
¢ Suzanne Hutchens edged out defending women's city champion Carol Rau by four strokes. Rau defeated Hutchens for the crown last year in a playoff. Hutchens said her key to victory was keeping the ball in play with the rain on Sunday. She said she lost four golf balls the previous day. Hutchens remained humble after the victory.
"It was very soggy, and we all had some problems with the rain," Hutchens said. "We have very similar games, and it could have gone either way."
Copyright 2018 The Lawrence Journal-World. All rights reserved. This material may not be published, broadcast, rewritten or redistributed. We strive to uphold our values for every story published.