Baldwin — As Marvin Jardon tells the story, the men had returned a few years earlier from serving their country in World War II and still were of a mind to band together to accomplish goals.
One of their dreams was to build a golf course, so build a golf course they did, cutting it out of a farm and bulldozing an orchard in the process. A group of about 50 men started the Baldwin Golf Association in 1951 and built the Baldwin Golf Assn. Golf Course.
The fairways aren't as tightly cropped as at mainstream golf courses, and the greens aren't green at all. Rather, they are sand greens, which makes this course a holdover from a mostly bygone era.
The more active of the estimated 100 members of the BGA maintain the course, a process that begins with the rebuilding of the sand greens each spring. This is done by mixing the sand on each "green" with five gallons of motor oil. The course is mowed once or twice a week. Annual membership fees are $100. Non-members pay $5 to play, based on an honor system. The cash is put in a lock box.
The tools to maintain the greens hang on a post, and the job belongs to the golfers. The tool known as a "drag" is used to clear a path to the hole. The golfers place their balls in that path, the same distance from the cup as where they landed. Then they whack the putt hard enough to cover the distance. Barring any horseplay from the person who dragged the path, the putts generally don't brake, so one-putts are common. The greens are small, but approach shots tend to stick, rather than roll. One of the players rakes the green, starting at the cup and working outward, walking in a circular motion.
Jardon helped to build hole No. 6 as a high school student.
"The fellowship is what I enjoy most," said Jardon, a retired postmaster. "There have been different groups of people coming out through the years, but they always seem to have a good time out here."
Tuesday is couples night, and Wednesday is men's night.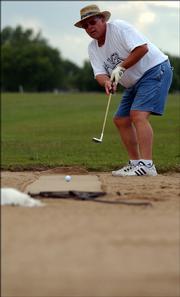 Rick Weaver, basketball coach at Baker University, invited me to join the group and learned that "You are still away," is not the worst four-word phrase in golf. He learned the four worst words in golf are: "Keegan is your partner."
Jardon's partner, Junior Brecheisen, ran the hardware store in town that bore his name, until he retired to area golf courses. Brecheisen takes a healthy hack at the ball, and when he connects, it keeps going and going and going. He plays most of the round with a skinny cigar butt in his mouth. One of his favorite clubs is a hybrid: half-wood, half-iron.
"This is my 199 club," Brecheisen said. "I found it lying in the middle of 199th street, and it wasn't hurt. I couldn't believe it."
Local legend has it that "June," as his friends call him, once took the golf rule "hit it where it lies" to an extreme when he landed a shot on top of a turtle and hit it off the turtle's back.
"I saw him hit one back through his own legs on No. 2. It hit the ball-washer, bounced up the fairway a couple of yards, and he immediately said, 'That'll play,'" Weaver said.
After the two-man scramble was complete and 32 was the winning score, 29 golfers consumed 72 bratwursts, swapped stories and marked another Wednesday in their lives.
When the men talk of the course in the future tense, they do so with a touch of nervousness, hoping it will last forever and knowing nothing of the city's plans for the land.
Words of wisdom
"Why am I using a new putter? Because the last one didn't float too well." - Craig Stadler
"A lot of people come out and have a lot of fun here," Brecheisen said. "It's a sports form of entertainment. It's probably never going to make the city any money, but tennis courts and baseball diamonds don't make the city any money either."
Said Weaver: "It's a great place to learn the game."
I can say it was a great place to spend a Wednesday evening.
Tip
By Julie Jones
One edge that good players have over higher handicappers is their willingness to develop a pre-shot routine. A good pre-shot routine brings simplicity and consistency of thought to every shot.
Here are some basic elements of a good routine: 1) While standing behind the ball, pick a target and commit to that line. 2) Visualize ball flight, taking into account outside factors such as wind and slope. 3) Aim the clubface at the target. 4) Align your body to the clubface. 5) Check the target one last time, then pull the trigger.
A pre-shot routine incorporating these simple steps will help golfers of all levels become more consistent and less anxious on the course.
- Tipster Julie Jones is an assistant pro at Lawrence Country Club.
This week in golf:
Hole
No. 10, Alvamar Country Club
Par: 4. Yards: 375 (championship tees)
Speaking from experience, play one club short of what you normally would play on the approach shot, even though a big sand bunker hugs the front of the green. It gets nasty in a hurry behind the green. Think just to the right of center on the tee shot because there are big trees to clear on the left. Pleasing to the eye, this road-side hole can sneak up on you and play tougher than it looks.
Copyright 2017 The Lawrence Journal-World. All rights reserved. This material may not be published, broadcast, rewritten or redistributed. We strive to uphold our values for every story published.