"Everything old is new again," according to an old song, and it's becoming more obvious in fashion and decorating. The home-furnishings gurus are now discussing "granny chic." Old materials like needlepoint and lace are made in new designs, or designs from the past are being reinterpreted today with modern materials. Old silver candlesticks are being copied in white plastic. Needlepoint pillows have modern mottos as part of the design. In the 1950s, Irving Harper created a textile design for Schiffer Prints while working for George Nelson Design Studio. "China Shop" was a colorful pattern showing silhouettes of modern dishes. The design also was used on trays marked "Boltabest." The tray was made of a material that looked like Masonite with a design covered with a plastic coating. The old trays are showing up at antiques events for about $400 to $600. New pillows using the same old design sell for $125.
Q: Someone has offered to buy my Kay Finch figurine of a Pekinese dog, but I don't know what to ask for it. It's pink, light purple, white and black and 14 inches long. The mark on the bottom reads "Kay Finch."
A: Kay Finch's creations are among the most popular of mid-20th-century California pottery collectibles. In 1939, Kay Finch (1903-1994) and her husband, Braden, built a ceramics studio in Corona del Mar, Calif. Kay, an animal lover and sculptor, made the studio's molds. Employees used her molds to create figurines that were fired, glazed, slip-decorated and hand-painted. The company closed in 1963. The 14-inch Pekinese, figure No. 154, was made before 1946. Today a Pekinese in mint condition can retail for more than $500.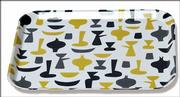 Q: About 25 years ago I bought a set of children's kitchen furniture at an auction. The solid maple set includes a sink, oven and large cabinet with shelves above and storage space below. All of the pieces are marked with a black stick-figure logo and the words "Community Playthings, Rifton, N.Y." What can you tell me?
A: Community Playthings is a line of children's furniture introduced in the 1950s. The furniture, marketed mostly to day-care centers, is manufactured by a religious community in New York. The community also makes a line of rehabilitation equipment under the brand name Rifkin. A new Community Playthings kitchen set sells for $800. You older set would sell for less, but it's a well-built play set that will last several lifetimes.
Q: I paid $4 at a flea market for a gold metal lotus-leaf bowl made in 1948 by Oskar Hansen. Can you tell me something about the artist?
A: Sculptor Oskar Hansen (1892-1971) was born in Norway but moved to Charlottesville, Va., when he was an adult. His most famous sculptures are probably the winged figures on Hoover Dam. In the late 1940s Hansen became a friend of Dick Clemmer, the owner of Virginia Metalcrafters of Waynesboro, Va. Using clay, Hansen sculpted a series of leaf shapes for Virginia Metalcrafters. The clay molds were then used to make bronze and brass bowls, trays and other gift items. Virginia Metalcrafters is still in business and continues to sell pieces originally designed by Hansen. Today a new Hansen lotus-leaf bowl sells for about $40.
Q: We found an antique projector in our mother's basement when we were settling her estate. She and my dad were both born in 1910. The small metal projector fits on an oil lamp. We found it stored with several sets of hand-painted glass slides, all picturing characters from nursery rhymes or children's stories.
A: Your antique projector is a "lampascope," a type of magic lantern. Magic lanterns, forerunners of slide projectors, were invented in Europe in the 1650s. Early ones used candlelight to project pictures onto a wall. By the 19th century, traveling showmen were using magic lanterns as entertainment at public gatherings. Gas or oil lamps had replaced candlelight, and models were made for home use and as children's toys. Lampascopes could be mounted on a household oil lamp for home use. Most date from the late 1800s.
Q: I inherited a 1904 St. Louis World's Fair souvenir from my grandmother. It's a collection of tiny seashells inside a 3-inch closed glass globe on a small stand. One shell at the top has printing on it that reads "World's Fair, St. Louis, 1904." I have been unable to find information about it.
A: Your souvenir is a paperweight. At least three different styles of glass-encased seashell paperweights were made as souvenirs of the St. Louis fair. We have seen some for sale online at prices as low as $10. If it's in excellent condition, your paperweight could sell for about $25.
Tip
Changing temperatures bother a grandfather clock. An inside corner is the best place for the clock.
Current prices
Current prices are recorded from antiques shows, flea markets, sales and auctions throughout the United States. Prices vary in different locations because of local economic conditions.
¢ Franciscan Larkspur soup bowl, tab handle, Gladding McBean mark, 7 1/2 inches, $10.
¢ Fenton candy dish, Cameo Opalescent, Lily of the Valley pattern, cover, 9 1/2 inches, $55.
¢ AC Sparkplug table lamp, porcelain, sparkplug form, black and white, 1950s, 19 x 5 inches, $80.
¢ Arlo Guthrie concert tour pinback, lime-green ground with crossed banjo and guitar, map of California, large orange poppy, 1972, 2 1/8 inches, $95.
¢ The Wizard of Oz card game, blue and white with the wizard holding hat and cane, image of five main characters, England, 1939, box, 44 cards, $170.
¢ Cleveland Indians baseball player bobbing-head figure, green base, 1963-65, 7 inches, $185.
¢ Tiffany Studio ink blotter, bronze Grapevine pattern, over green slag glass, signed, 6 inches, $250.
¢ Danish dining chairs, rosewood legs and frame, original blue wool upholstery on seat and backrest, 1960s, 30 inches, set of eight, $550.
¢ Stevens and Williams glass perfume bottle, bulbous, honey amber and bittersweet swirl with cream interior, satin finish, 5 1/2 inches, $745.
Copyright 2018 The Lawrence Journal-World. All rights reserved. This material may not be published, broadcast, rewritten or redistributed. We strive to uphold our values for every story published.