Customizing the wedding experience to reflect personal tastes and creating new traditions is a popular trend for today's couples. In the case of Jackie Dubois and Adam Miller, that meant turning a daily routine into a wedding day ritual.
Jackie, who ran cross country at Free State High School and Oklahoma University, has collected friends and teammates who share her love of running. With most of them gathered in Lawrence for the wedding festivities, it seemed only natural to include them in her morning run. Thus was born the women-only "Knot Trot." As she donned a short white veil, Jackie denied wedding jitters.
"I'm just excited really," she said. "All my friends are here."
At 9 a.m. sharp, the women gathered in the front yard for photos. The bride's veil fluttered behind her as the group took off. In less than 45 minutes, they were back, energized and ready for brunch hosted by neighbor Leslie McCaffrey.
As a person living with cystic fibrosis (CF), Jackie relies on running to maintain her health. CF is a genetic disease that affects the lungs and gastrointestinal system. A few decades ago, people with CF rarely survived into their teens but with medical advances are now living long, full lives. At 23, Jackie has received multiple awards for her leadership, athletic ability and academic success, and has raised money and awareness for CF research.
Adam Miller, 25, also is an athlete and had similar ideas for the wedding day. On the All-State team for football as a high school senior, his continued involvement in athletics led to his current job as a teacher and coach of middle and high school students at Community Christian School in Norman, Okla.
Photo Gallery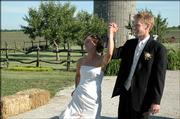 Couples - Dubois and Miller, June 3
"Being active is a part of our everyday life, so we wanted to incorporate that into the wedding - and also spend time with our friends," Adam said. He and his friends got together the day of the wedding and shot some hoops, wearing their commemorative red shorts - a gift from the groom.
Jackie and Adam met at a church function in Norman in late 2004. The attraction was mutual, especially when Adam discovered Jackie ran track. She recalled how the courtship grew beyond anything either of them had experienced, culminating in a special proposal just before Christmas in 2005.
"I had been wishing for a Christmas tree in my apartment all season," she said. "Adam and I were out celebrating his birthday, and when he drove me home I could see a tree in the front window. I followed a trail of white rose petals to this big tree, surrounded by paper snowflakes. The kids at his school made the snowflakes, and there were pictures of us on each one. Under the tree was a little white box with a ring in it."
"I'm a coach, she's an athlete : I guess you could say I recruited her," Adam joked.
"I'm on Team Miller now," Jackie said, laughing.
The couple was married June 3 at First United Methodist Church in Lawrence. They will live in Norman, where Jackie will complete a graduate degree in meteorology.
Copyright 2018 The Lawrence Journal-World. All rights reserved. This material may not be published, broadcast, rewritten or redistributed. We strive to uphold our values for every story published.