Better streets will require higher property taxes and higher fees, according to a budget being recommended by interim City Manager David Corliss.
Corliss on Friday presented a 2007 recommended budget that calls for a property tax increase of 0.98 mill, increases the franchise fees that every electric, telephone and cable customer in the city pays, and would delay some new park projects.
But the budget also increases by about $2 million what the city would be able to spend on street maintenance.
"This is an eat your vegetables before your dessert type of budget," Corliss said. "The major theme of the budget is to focus on basic infrastructure needs of the community."
The budget proposes spending $58.8 million for general operations, up from $55.2 million this year. Revenues are expected to grow from $47 million to $55 million. The city would make up any deficit by dipping into its fund balances, which are the city's equivalent of a savings account.
The extra attention to infrastructure will require a tax increase, Corliss said. The nearly one mill increase likely would cost the owner of a typical Lawrence home about $50 to $60 more per year in city property taxes. That's because in addition to the mill levy increase, most Lawrence homes are expected to rise in value by 5 percent to 7 percent, which also will increase the amount of taxes residents will owe. A mill is one dollar in property tax for every $1,000 of assessed value.
Photo Gallery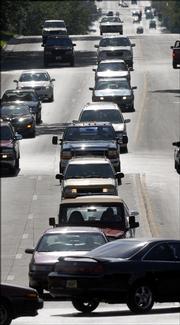 Property tax
Several city commissioners on Friday afternoon said they appreciated the attention the budget would provide to streets and infrastructure, but said they would have to review the proposal more before they could commit to a tax increase.
"We have to have our infrastructure in place to make sure the rest of the community works," Mayor Mike Amyx said. "Nobody ever wants to see us have any type of mill levy increase. I've never been in support of that, but the thing that happens when we're looking at the big picture on infrastructure is that some of those improvements cost pretty big dollars."
The proposed property tax increase may gain some traction with city commissioners. Several of them have pointed out that the City Commission reduced the mill levy by 1.5 mills last year.
In addition to the property tax increase, Corliss is recommending an increase in the city's utility franchise fees that would increase a person's electric, phone and cable bills by a total of 5.75 percent.
City commissioners will discuss the budget and make any changes to it throughout July. They are expected to give it final approval in early August.
Street maintenance
The budget would increase street maintenance funding from the $4 million per year currently to about $6 million in 2007. The extra money would allow the city to add an additional three-person maintenance crew, fund more pothole and crack repair, and boost the city's efforts to rebuild crumbling curbs and gutters.
The city received a report from its Public Works Department earlier this year showing that about 30 percent of the city's streets had deteriorated to the point that simple maintenance would no longer keep them in acceptable condition. That led to a call by Public Works leaders to significantly increase the amount of money available for street maintenance to stop more city streets from falling into the category of needing major repairs.
The additional $2 million in proposed spending would not allow the city to begin addressing the 30 percent of streets in need of major repair. Corliss said the city would be in a position to begin tackling those projects in 2009, if city commissioners first take care of the backlog of maintenance projects in 2007 and 2008.
Reaction from city motorists and taxpayers was mixed Friday. Several said they weren't sure higher taxes would be worth the extra road work.
John Rury, a Lawrence resident who moved here from Chicago, said the city's streets aren't worse than other communities. What is out of line, he said, is the price of housing. Additional property taxes would only compound that problem, he said.
"Lawrence already has priced out the working middle class," Rury said.
Others, though, said improving street conditions in the city should be a priority. Lawrence resident Shawn Hastie said she's frequently frustrated by the condition of streets in her East Lawrence neighborhood and would be willing to pay an extra $50 a year in taxes for better streets.
"The streets are not so hot," Hastie said. "They crumble, the potholes they fill fall apart."
Park delays
The additional street maintenance funding could come at a cost to parks. Corliss is recommending about $900,000 of the new street money come from proceeds of the countywide 1-cent sales tax.
Historically, a large portion of that sales tax money has been used to fund new park projects. By shifting some of the money to streets, Corliss said some previously approved park projects could not be funded under his budget proposal. The two major projects that would be left off the funding list are a new park on city-owned land near Peterson Road and North Iowa Street, and a neighborhood park in the Green Meadows area near Kasold Drive and 31st Street.
Park projects that would receive funding under his budget are Clinton Park, near Fifth and Alabama streets; road improvements at Sesquicentennial Point; creation of a new park at Harvard Road and George Williams Way; planning for the Burroughs Creek trail project; and improvements to the skateboard park at Centennial Park.
City Commissioner Boog Highberger has been a strong proponent of several of the park projects. He said he agrees there is need for more street maintenance and likely could live with a mill levy increase. But he said he's not sure he likes the idea of delaying several of the park projects.
"I'll need to look at that one a little more," Highberger said. "I can't guarantee that I would support that recommendation yet."
Social services
Corliss is recommending the city provide $250,000 in funding for the community's WRAP program, an initiative run by the Bert Nash Community Mental Health Center that puts mental health professionals in area schools. The program is losing its federal grant funding and needs local money to stay in business.
The funding may generate debate among commissioners. Commissioner David Schauner said he wasn't convinced providing the funding was the right role for the city because it took resources from basic city services.
"I haven't made up my mind yet," Schauner said. "But I think we do need to be very careful in expanding our funding of outside agencies. I would like to keep our mill levy flat, but we'll just have to see."
Economic development
The proposed budget makes several recommendations that would add new elements to the city's economic development efforts.
"To put it bluntly, the Lawrence community must do more to achieve our economic development aspirations," Corliss said, expressing particular concern about the city's tax base being too heavily weighted toward residential properties.
Corliss proposes creating a $250,000 fund to help pay for city infrastructure improvements needed to attract a new company to town or encourage an existing company to expand. City commissioners would have to create a policy how to specifically use the fund, but it could provide another incentive in addition to tax abatements to lure new companies to town.
Corliss also is recommending the city hire an economic development coordinator. The new position would concentrate on providing economic analysis to city commissioners on issues such as retail demand, downtown redevelopment, neighborhood revitalization and other economic development related issues. Corliss said he didn't intend for the position to detract from the city's economic development marketing efforts currently outsourced to the Lawrence Chamber of Commerce.
Traffic calming and sidewalks
Sidewalks and traffic-calming devices - such as speed humps and traffic circles - also would receive special funding under Corliss' budget. He's recommending the city create a new $250,000 fund to be used to fill in sidewalk gaps along major streets. It also would begin funding several traffic-calming projects requested by neighborhoods and approved by city commissioners, but not yet built for lack of funding.
Property tax calculator
Property tax calculator
Note: values shown are provided for informational purposes only and are based on an average home value increase of 6.5% and the proposed mill levy of $27.34 per $1000 and may not reflect your new property tax amount. Javascript is required to use this calculator.
Fees
The major fee increases in the proposed budget are utility franchise fees. Franchise fees are charged to utility customers based on a percentage of each user's bill, minus taxes and other fees. Corliss' proposal would result in:
¢ A 3 percent increase in phone bills, with the franchise fee increasing from 2 percent to 5 percent.
¢ A 1.75 percent increase in cable bills, not including Internet service, with the fee rising from 3.25 percent to 5 percent.
¢ A 1 percent increase in electric bills, with the fee increasing from 4 percent to 5 percent.
Corliss said it may be appropriate to phase in the increases for phone and cable fees. But he said the increases were justified because the city is spending more to buy and maintain rights-of-way used by the utility companies.
The utility companies have previously said they don't plan to contest the fee increases, as long as people understand the increases would be passed directly to customers.
Corliss' budget does not recommend any new impact fees, but he said development and neighborhood leaders should convene this fall to discuss specific impact fees to help pay for new parks and streets.
Copyright 2018 The Lawrence Journal-World. All rights reserved. This material may not be published, broadcast, rewritten or redistributed. We strive to uphold our values for every story published.