Wimbeldon, England — Amelie Mauresmo could sense another Wimbledon semifinal slipping away with each of Maria Sharapova's piercing shrieks and powerful shots.
And then, slightly out of character, Mauresmo won a key point and let out a scream of her own, a bit of a bellow to release the tension.
It sure worked.
The top-seeded Mauresmo gave away a big lead Thursday before collecting herself to pull out a 6-3, 3-6, 6-2 victory over 2004 Wimbledon champion Sharapova and reach her first final at the All England Club.
"It was not perfect," said Mauresmo, who entered the day 0-3 in Wimbledon semifinals, "but it still was a win."
Her opponent Saturday will be No. 3 Justine Henin-Hardenne, who overcame problems with her serve and trademark backhand to beat No. 2 Kim Clijsters, 6-4, 7-6 (4).
"I don't have anything to prove to anyone anymore," said Henin-Hardenne, trying to become the first woman in the Open era to win the French Open and Wimbledon back-to-back without dropping a set at either.
"I proved enough on the tennis court: the fighter I am, how much I can compete."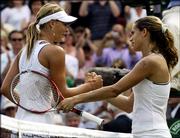 Mauresmo's always had an easier time with the physical demands of top-level tennis than the mental demands, and she appeared to be collapsing Thursday. Up a set and leading 3-1 in the second, the Frenchwoman got to love-40 on Sharapova's serve: That meant three chances to go up 4-1.
But after Sharapova erased one break point with a swinging forehand volley, Mauresmo made consecutive forehand errors to let the occasion slip. And then it got worse: Mauresmo double-faulted twice in each of her next two service games, part of a five-game run that handed Sharapova the set.
"Maybe," Mauresmo acknowledged, "I was thinking too much."
Late in the troublesome second set, she saved a break point with a service winner and responded with that cathartic yell of celebration, at least as loud as the grunts that accompany so many of Sharapova's groundstrokes.
"I probably felt I needed to let it go, let it out a little bit," Mauresmo said. "I just felt that I needed to do that at that moment of the match. Didn't help me win the second set, but maybe helped me a little bit in that third."
Mixing speeds and tapping back returns, Mauresmo broke for a 2-0 lead in the final set, and soon it was 4-0. Still, Mauresmo had one last rough patch.
Sharapova got to 4-2, then earned a break point that would have made it 4-3. But Mauresmo gathered herself and drilled an ace at 112 mph, then broke in the next game to end the 2-hour, 13-minute match.
Rafael Nadal is a two-time French Open champion who's quite quickly become adept on grass, reaching his first Wimbledon semifinal by eliminating No. 22 Jarkko Neiminen 6-3, 6-4, 6-4 in a postponed quarterfinal Thursday. Nadal plays Australian Open runner-up Marcos Baghdatis today, while three-time champion Roger Federer faces unseeded Jonas Bjorkman for a spot in Sunday's final.
Copyright 2018 The Associated Press. All rights reserved. This material may not be published, broadcast, rewritten or redistributed. We strive to uphold our values for every story published.