Kansas City, Mo. — The ongoing focus on eradicating steroids and other banned substances from athletics is leading the National Center for Drug Free Sport Inc., the NCAA's official drug tester, to look for a larger home.
Later this year, the Kansas City-based company, which has overseen the NCAA's drug testing program since the organization left town for Indianapolis in 1999, plans to move into a headquarters double the size of its current one to support the growing number of clients and testing crews.
About a year ago, Drug Free Sport began testing athletes on behalf of the Big 12 Conference and took on baseball's minor leagues as a client in January 2005. The company also conducts more than 60,000 tests a year on athletes at 160 individual colleges and universities, numerous high schools and even smaller sporting groups like AAU Powerlifting and the Firefighter Combat Challenge.
Frank Uryasz, Drug Free Sport's president, said much of the growth has come as organizations want to get tougher on drugs - but either lack the expertise to do the testing themselves or want to avoid charges of impropriety over how they handle the results.
"It also helps the athletes because when they know it's not their organization that is handling the testing, they're more comfortable, especially the younger athletes. They don't feel like they're being picked on, singled out," said Uryasz, whose company did $5 million in revenue last year.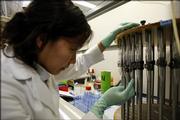 His staff of 17 oversees a network of 50 to 60 field crews who collect samples and send them to two labs for testing - one at the University of California-Los Angeles for steroids and one in Lenexa, Kan., for street drugs.
The NCAA alone does around 11,500 random tests a year, both during regular competition and at championships, said Mary Wilfert, associate director of education outreach for the NCAA. That number will only grow as the organization begins testing Division I football and baseball players this year for the first time during the offseason months of June and July, part of the NCAA's move toward year-round testing.
"It's a recognition that student-athletes are training during the summer and we want to provide that added deterrence during the summer months," Wilfert said.
She said the NCAA tests for steroids, stimulants and masking agents as part of its regular program, adding illegal drugs like cocaine and marijuana in championship tests.
"I wouldn't say it's dramatic growth, but it's targeted growth, reaching out to different sports and testing for specific things," she said, noting the NCAA recently added tests for blood doping and ephedrine.
During the 2003-2004 period, the last period for which numbers are available, less than 1 percent of athlete tests came back positive for banned substances.
The University of Kansas is in its second year with Drug Free Sport, performing an estimated 500 tests a year, said head team physician Dr. Larry McGee.
McGee said the school tests all incoming athletes as soon as they arrive on campus and tries to test them at least twice more during their college career. Students who test positive are given counseling for the first result, suspended from a certain number of games for a second result and dismissed from the team for a third result.
"Our first focus is a therapeutic one," McGee said. "We want to help them in the whole health process of dealing with street drugs and anabolic steroids."
Testing isn't cheap, with tests for street drugs costing $20 but steroids tests reaching $100 or more. Still, Uryasz said high schools are increasingly willing to foot the bill to test their students, a seemingly good strategy as recent NCAA athlete surveys show a majority of students who have used banned steroids and other performance enhancing drugs said their first experiences came in high school.
The NCAA spends $4 million a year on its testing program, Wilfert said, adding the association spends another $500,000 a year for athlete education.
Uryasz, who said he saw a lot of athletes using drugs when he was at the University of Nebraska in the early 1980s, went to work for the NCAA in 1986 and set up the association's testing program only a couple of years after UCLA researchers found a way to detect steroids in humans.
When the NCAA left Overland Park, Kan., seven years ago, Uryasz formed Drug Free Sport and persuaded his former bosses to outsource the job.
Testing has its limits, he says. For example, science hasn't found a way to detect human growth hormone or easily determine if someone is using synthetic testosterone.
He also worries that the constant focus on drugs in sports, including controversies ranging from steroid allegations against Barry Bonds to blood doping scandals at the Olympics, could make children think it's an inherent part of athletics.
But he said the attention will ultimately drive drug use further underground, as will sports fans demanding more testing of athletes.
"It has the potential to ruin sports," he said. "As people who love sports, we have to take responsibility and do everything we can scientifically to deter the use of these compounds."
Copyright 2018 The Associated Press. All rights reserved. This material may not be published, broadcast, rewritten or redistributed. We strive to uphold our values for every story published.