Nairobi, Kenya — A recruiting video issued by members of the fundamentalist Islamic movement in Somalia shows Arab radicals fighting alongside the local extremists in Mogadishu, and it invites Muslims from around the world to join in their "holy jihad."
The video, obtained by The Associated Press, provides the first hard evidence that non-Somalis have joined with Islamic extremists in Somalia.
The Supreme Islamic Courts Council, which defeated U.S.-backed warlords in Mogadishu last month and is now the country's most powerful force, has repeatedly denied links to extremists such as al-Qaida.
But the one-hour video appears to confirm U.S. fears - and al-Qaida's boasts.
President Bush expressed concern last month that Somalia could become an al-Qaida haven like Afghanistan was in the late 1990s. And recordings attributed to Osama bin Laden portray Somalia as a battleground in his war on the United States.
The videotape, produced to both recruit new fighters and raise funds, glorifies the Islamic victory over U.S.-backed, secular warlords in Somalia. U.S. officials cooperated with the warlords, hoping to capture three al-Qaida leaders allegedly protected by the Islamic council, especially three men accused in the deadly 1998 bombings at the U.S. embassies in Kenya and Tanzania.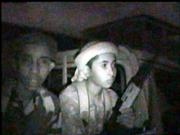 Those singled out by the United States include the courts council leader, Sheik Hassan Dahir Aweys, branded a terrorist by the Americans.
Aweys, speaking on Somali radio over the weekend, said his movement had no contacts with bin Laden or al-Qaida. He also rejected accusations that foreign fighters were in Somalia.
But the video, shot on a handheld recorder, shows Arab fighters and Somali militiamen as they battle troops loyal to warlords who controlled Mogadishu for 15 years. Arabic anthems and poetry play on the audio track urging Muslims to join the global holy war to advance Islam and defeat its enemies.
There are also subtitles in Arabic and Somali calling the battle part of "the sacred, holy jihad in Somalia" and "the holy war that began in Somalia." The tape is similar to other videos produced by Islamic extremists in Iraq and other countries where al-Qaida is active.
Evan Kohlmann, an international terrorism consultant who closely follows statements and videos from militant Islamic groups, said the video has traits similar to those produced by Islamic militants elsewhere in the world.
"I think it is tremendously significant and may be the determining piece of evidence that will decide U.S. policy on Somalia," he said. "Sounds a lot like al-Qaida when the Taliban were just getting started in Afghanistan."
Copyright 2018 The Associated Press. All rights reserved. This material may not be published, broadcast, rewritten or redistributed. We strive to uphold our values for every story published.