BELLINGHAM, WASH. — Rob Kemp does a double-take. Then he does a triple-take.
Bono? The lead singer of the biggest band in the world, U2?
He races up and introduces himself, shaking his hand and rattling off his adoration at a mile-a-minute pace.
Kemp, 23, doesn't notice that the man has no Irish accent. Or that he's carrying his own bag down the street. All Kemp of Abbotsford, Canada, sees is the legendary singer - from the straw hat to the glasses to the jacket.
"I'm not Bono," the man says.
This is the Geoffrey Knight - a man who is such a ringer for the rock star that he eclipses other look-a-likes.
Knight, 32, a longtime U2 fan, came to Bono late in life. It began with a U2 concert in Seattle when his wife encouraged him to wear a pair of sunglasses, which he says looked nothing like the ones that Bono is famous for wearing.
"You know how people stare at you, and you get this feeling in the back of your head that someone is looking at you?" Knight said.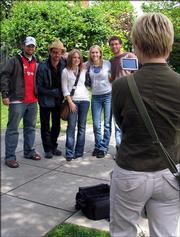 Stares - they happened during the concert and at the merchandise stand.
"This one girl had a little bit too much to drink, and she wrapped her arms around me. And then she stepped back and said 'You're not him,'" he said.
But it was a trip to Ireland to see a U2 concert a few months later in June 2005 that set him on his path to becoming Bono. In Dublin, where Bono can be seen sometimes walking the streets, the people who live there did more than a double-take. Some of them approached him.
He returned to Washington and related the experience to a friend, who in turn told him that celebrity impersonators can make a lot of money. Out of curiosity, Knight said, he logged on and looked at a few Bono impersonator sites. None of the impersonators looked a lot like Bono, he says.
Knight sent some pictures of himself to an impersonation Web site. A month later, Boston radio station Mix 98.5 FM contacted him - and flew him out to do promotions for the station in the days leading up to a U2 concert.
For a few days, Knight lived like a rock star. He took no money for the gig but did enjoy the perks - from the use of limo to a suite in an upscale hotel.
"I would pop my head up out of the limousine. It was like magnet. The limo couldn't move and people were asking to take their pictures," he said.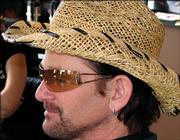 There is little about Knight's personal life that resembles the rock star. Knight and his wife own a Pilates studio in the sleepy university town of Bellingham; Bono owns several houses, globe-trots for social causes and, of course, fronts the biggest rock band in the world.
But Knight does believe in some of Bono's causes, such as "One: The Campaign To Make Poverty History." He donates most of the money he makes as a look-a-like to One, and lent his Bono-likeness to a video produced by his daughter, who was promoting the campaign at her school.
There are a few physical challenges to impersonating the rock star.
"He has terrible posture. I would love to get him in a Pilates studio," Knight said.
Copyright 2018 The Associated Press. All rights reserved. This material may not be published, broadcast, rewritten or redistributed. We strive to uphold our values for every story published.