When you live in the country, life seems to move at a slower pace.
There's more time to sip lemonade on the patio, catch up on your reading or while away hours on a hobby like knitting.
Yeah, right!
Rural living is not for the faint of heart. Imagine being perched atop a hill, gazing out your windows and realizing every square inch of land as far as the eye can see is yours. That's some serious commitment to Mother Nature - and it's exactly what Chuck and Mary Loveland got into more than a decade ago when they bought 30 sprawling acres.
Shasta daisies sparkle in the sunlight as you approach the Loveland home. Some were planted by the Lovelands; others took root after wind, birds or pure happenstance planted their seeds. The same is true for the black-eyed Susans, cleome, yarrow and coneflowers.
Although the setting is natural - with hay bails rolled in tight bundles casting blue shadows on the pastures -don't be mistaken: Much of the mystique derives from the Lovelands' imaginations and brute work ethic.
When you have this much land, your work is really never done.
"If we don't do it today, we still need to do it tomorrow," Chuck says.
Deer dilemma
Photo Gallery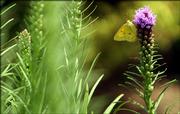 Country gardens
The Lovelands don't own a ski boat or an airplane; they don't live extravagantly with expensive hobbies. They simply love beautifying their piece of earth.
Their plot includes a picturesque pond, surrounded by native grasses swaying in unison with the winds whims. Although it appears as if the pond has been there forever, Chuck and Mary had the hole dug, filled with water and stocked with small-mouthed bass, crappie and catfish.
"The catfish are practically tame," Chuck says. "The grandkids and I feed them dog food."
When an empty nest was knocking on the Lovelands' door a decade ago - and moving from a 1/2 acre in town to 30 acres in the country became the answer - new questions popped up for the former urbanites. One challenge was the deer.
In western Douglas County, deer outnumber people by leaps and bounds. This became apparent to the Lovelands one morning when they discovered Chuck's rose bush - plump and ready to bloom the previous evening - had been reduced to a nubbin.
"We never had to think about deer in town, and now suddenly all the roses are plucked," Mary recalls. "They even ate the plant tags, and to this day I still don't know what some of these plants are because the deer ate those tags.
"We thought maybe the dogs, Riley and Witte, would deter them, but that didn't seem to matter. Then we heard if you laid chicken wire on the ground, the deer will not walk on top of it, that seems to have worked. We also plant yarrow near plants we know the deer like to eat because yarrow detracts them."
'Lasagna approach'
Chuck says upkeep is, without a doubt, the most trying issue in a country garden.
"We use lots of mulch," he says. "There is so much to weed, and this year the lack of water has been an issue."
Tips for country gardeners
¢ For country garden earth-moving projects - improving drainage and expanding natural ponds - hire agricultural contractors instead of landscape contractors. Agricultural contractors are more affordable. ¢ Hire landscape contractors for big hardscaping jobs, such as making compacted gravel paths through the beds or building patios or garden structures beyond your own capability. Do the bed preparation and planting yourself. ¢ To control weeds and conserve moisture, top beds with a 3-inch layer of mulch (straw or wood chips). ¢ To prevent grass from creeping into beds, maintain sharp V-shaped edges. Weed and edge diligently early in the season, and plant abundantly to crowd out weeds. ¢ Keep maintenance manageable by choosing suitable plants. To avoid manicuring many acres, think about planting several acres as a prairie meadow of wildflowers and native grasses. ¢ To conserve water, use drought-tolerant plants and collect rainwater in buried cisterns. Water new plants, along with trees and shrubs in their first couple of seasons, but leave established perennials to fend for themselves. ¢ Build a relationship with a good nursery. If you're buying masses of plants, negotiate a discount, or buy wholesale. You also can try growing many plants from seed. ¢ If you can afford it, hire part-time help. Source: www.flower-gardening-made-easy.com
The couple's land originally was a cattle pasture with two elm trees. That was about it.
Now, there are an array of flower beds (most of which are named), a miniature orchard, an expansive deck area, and a layered herb and flower space. When they first moved in, Mary thought all that cow manure would make for fertile land,.
"I was mistaken. A cattle pasture, I now know, basically means nothing grows here," she says. "So, I have taken the lasagna approach to gardening, where you add dirt in layers upon layers. As we have dug, we have also discovered that the land is quite rocky. I like to scavenge for rocks and create walls, benches and beds, really whatever I can, so the rocks are definitely being recycled."
Doing it their way
Although rural gardening can be a 9-to-5 job, a bevy of rewards come from having a liberal amount of space.
"I like the idea of taking this large, beautiful green space and making it even more glorious," Chuck says.
Adds Mary, "You never have to say no to trying something new. There is plenty of room for trial and error. I also look at it like art. I've never been able to draw more than a stick figure, but I consider myself an artist of the earth.
"I don't follow many gardening rules, and having such a large space to work with, you really don't have to listen to the experts."
It's a forgone conclusion that while the eagles soar in the weekend skies, the Lovelands are busy digging holes, hoeing beds, weeding, deadheading, erecting stone walls or some other laborious garden task.
And they're loving every minute of it.
Copyright 2018 The Lawrence Journal-World. All rights reserved. This material may not be published, broadcast, rewritten or redistributed. We strive to uphold our values for every story published.