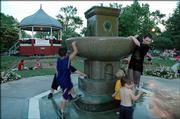 -->
The crowd loved the music, but Wednesday night's city band concert was more dry than usual.
Concerns about children climbing and playing in the nearby fountain at South Park caused the city to shut off the water during Wednesday's concert and to post signs warning people to keep away. During previous concerts, the fountain has been covered by a swarm of children.
"We can't keep people out of the fountain when we have an event," said Ernie Shaw, the city's recreation operations superintendent. "This is to look at, not to play in."
Shaw said it was mainly a safety issue. He said at times children climb onto the slick granite bowl in the upper part of the fountain, creating the potential for a serious fall.
In the past, city employees have found syringes left in the bowl of the fountain, he said. In addition, the water is recirculated water that's not meant for swimming.
"It's not like a water feature at the pool," he said.
The water was turned on again after the concert.
Local attorney Trey Meyer, who regularly takes his two sons to the concerts, said he'd noticed kids climbing in the fountain and thought it seemed dangerous.
"There's kids climbing all over the darn thing," he said. "It's wet, and there's water flowing out of it."
Copyright 2018 The Lawrence Journal-World. All rights reserved. This material may not be published, broadcast, rewritten or redistributed. We strive to uphold our values for every story published.