Munich — Leave it to the French to give this World Cup a sense of deja vu.
Zinedine Zidane had been there before, standing behind the penalty spot, with a chance to gain glory for himself and France.
With sweat dripping off his bald pate, he faced Ricardo Pereira, 12 yards from the goal. And with the composure gained from so many tough games over the years, he kicked the ball just inside the post.
The shot was perfect. Though the goalkeeper correctly chose a dive to his right, the ball barely eluded his fingertips.
In a match that turned on one penalty kick awarded and another denied, Zidane's goal in the 33rd minute gave France a 1-0 victory over Portugal on Wednesday night and a berth against Italy in an all-blue World Cup final, Les Bleus vs. the Azzurri.
"If we win, it will be wonderful for those who have supported us. I'm not talking about the ones who jumped on the bandwagon, but those who supported us from start to finish," Zidane said.
Others may have not expected the 34-year-old Zidane, who is retiring after Sunday's final, to carry his aging teammates this far. Pardon him, though, if he feels like this has all happened before.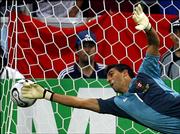 Six years ago, Zidane's penalty kick with three minutes left in extra time beat Portugal in the European Championship semifinals to set up a final against - who else? - Italy. France won that one.
Three-time champion Italy will be appearing in its sixth final. The last time the Azzuri won it was 1982.
The French were supposed to be soccer's over-the-hill gang, written off as too old and too tired. This will be their second appearance in a World Cup final - the other came in 1998, when Zidane scored twice in their famous 3-0 victory at home over Brazil. Six players remain from that team.
They earned their chance at a second title after Ricardo Carvalho tripped up Thierry Henry a yard inside the penalty area.
"It was a penalty. We can't contest it," Portugal coach Luis Felipe Scolari conceded.
Just three minutes after Zidane scored, Portugal's players and Scolari were livid that Uruguayan referee Jorge Larrionda didn't award them a penalty in return. Cristiano Ronaldo went down in the other penalty area trying to reach a cross, claiming he was pushed by Willy Sagnol.
A yellow water bottle was kicked onto the field from Portugal's bench when no call was made.
"He was right when he called the penalty on the French player but was wrong when he did not call it on Cristiano," Scolari said.
After the final whistle, Portugal captain Luis Figo walked over to the referee, spoke with him, then gave him mock applause.
"Anyone who understands soccer saw that the referee wasn't fair," Ronaldo said.
Scolari, who spent much of the match in front of his bench and throwing his arms up in frustration, wagged a finger at the officials as they walked off, and was blocked from getting close to them by a FIFA official.
Zidane's goal was his 30th in 107 international appearances, tying Just Fontaine and Jean-Pierre Papin on France's career list.
"I told myself that if I score and we don't allow any goals, we will be in the final," Zidane said. "I didn't think of anything else."
With just a few minutes to go, French fans in one corner of the stadium started singing "La Marseillaise," the French anthem, and followed with chants of "Allez Les Bleus!"
Now unbeaten in nine straight games, France started the World Cup slowly with ties against Switzerland and South Korea before beating Togo to get to the knockout phase. The French then defeated Spain, defending champion Brazil and finally Portugal to reach the finals.
Waiting for them will be a familiar tricolor opponent.
The French rallied to defeat Italy 2-1 in the 2000 Euro final when Sylvain Wiltord scored with 30 seconds left in second-half injury time and David Trezeguet got a goal 13 minutes into sudden-death extra time. France also beat the Italians on penalty kicks in the 1998 World Cup quarterfinals.
Portugal, a 20-1 shot last December, advanced to the World Cup semifinals for just the second time. Eusebio, the hero of Portugal's 1966 run, was on hand as was former French captain Michel Platini, considered by many his nation's greatest player.
France's win ended Portugal's 19-game unbeaten streak dating to a February 2005 exhibition loss at Ireland. It also stopped Scolari's 12-game undefeated string in World Cup matches.
Zidane's goal was the first goal Portugal allowed since the 29th minute of its first-round finale against Mexico.
"He's a real star, but a real star in the real sense of the word, someone who brings something to his team and helps the French public to keep dreaming," France coach Raymond Domenech said.
"But it's nothing new," Domenech said. "That has been happening for 10 years or so. He played all-out to reach the final without holding back."
Ronaldo nearly created a tying goal in the 78th, when French goalkeeper Fabien Barthez - another of the 1998 heroes - let his 30-yard free kick bounce off his arms and up in front of the goal. Figo, another former world player of the year, had an open header that he sent over the bar.
"We have an iron will and we're not going to stop now," French midfielder Patrick Vieira said. "We're going to carry on."
Copyright 2018 The Associated Press. All rights reserved. This material may not be published, broadcast, rewritten or redistributed. We strive to uphold our values for every story published.