Kansas City, Mo — John Buck made the Minnesota Twins the latest team to pay for an intentional walk.
Kansas City's catcher hit a two-run double with the bases loaded to cap a tiebreaking, three-run seventh inning in the Royals' 6-3 victory Wednesday night.
"Any time a guy gets intentionally walked in front of you, it gets the adrenaline going a little bit," Buck said. "For the team's sake, you want to come through. It is usually a situation that is a pivotal part of the game, that could turn around the game dramatically."
Reggie Sanders scored the go-ahead run for the Royals on a passed ball charged to Joe Mauer. Buck's two-out double then scored Esteban German, who had a pinch-hit single, and Angel Berroa, who was walked intentionally, to make it 6-3.
"As a hitter when they walk somebody in front of you to load the bases, it gets your heart starting a little bit. You've just got to be careful that you are not overanxious," Royals manager Buddy Bell said. "John took the pitch that got Reggie in, and he put a good swing on that pitch for a double. He hit the ball good all night. Those two extra runs were really big."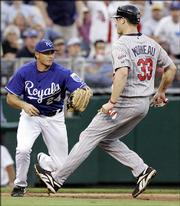 Berroa is 6-for-16 off Juan Rincon, which is why Twins manager Ron Gardenhire ordered the walk.
"We looked at the numbers," Gardenhire said. "You just can't take a chance there. We felt we could take a chance with Buck."
He said Mauer was crossed up on the passed ball.
"He called slider and he got a fastball," Gardenhire said. "We've been using one sign and changed with men on base. It was just a little confusing."
Buck and Sanders each had two hits and two RBIs, and Mark Grudzielanek had three hits as the Royals won for the 11th time in 16 games.
Jesse Crain (2-5), the second of four Minnesota pitchers, took the loss, while Jeremy Affeldt (4-5) threw just one pitch - retiring Justin Morneau on a comebacker to end the seventh with runners on the corners - to get the win.
"Those are the interesting ones, one pitch and win," Affeldt said. "I've thrown 110 pitches and lost, so give some, take some."
Ambiorix Burgos pitched the ninth to earn his 14th save in 22 opportunities.
Sanders had an RBI single in the first inning. Grudzielanek led off the third with a double, his seventh in five games, advanced to third on a fly out and scored on Sanders' sacrifice fly.
Copyright 2018 The Associated Press. All rights reserved. This material may not be published, broadcast, rewritten or redistributed. We strive to uphold our values for every story published.