Saint-Quentin, France — In a sport ruled for so long by Lance Armstrong, fellow American Levi Leipheimer is hardly a household name. In the next two weeks of the Tour de France, he might become a little more familiar.
The consistently high-performing Butte, Mont., native has reason to fancy his chances of becoming Armstrong's heir: Of the 172 racers still left in cycling's showpiece race that lost top contenders to doping allegations, a crash and illness, only four have ever finished above Leipheimer - and one of those is now his teammate.
Leipheimer finished comfortably in the main pack in Wednesday's fourth stage, won by Australian sprinter Robbie McEwen with a remarkable final burst of speed. Tom Boonen of Belgium kept the overall lead, proudly wearing the yellow jersey on his home turf.
Leipheimer, who is 27th overall, is the first to admit that it is still early days in the three-week race and that a surprise winner could emerge before the finish in Paris on July 23. Nevertheless, as others have dropped out, his star has risen.
"Someone could pop up and do really well," he said after Wednesday's stage four, where he accomplished one of his top priorities for the fast and dangerous first week: staying safe.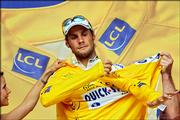 Of having been beaten by so few riders in this year's field, he said: "That's the past, and this is a different year and riders get stronger and more experience."
"It means a lot, but it's not an absolute truth that you can place your bets on," he added.
When asked, Leipheimer names three riders who placed above him in the three Tours he's finished: Spaniard Carlos Sastre of Team CSC, the Discovery Channel's Portuguese climber Jose Azevedo and T-Mobile racer Andreas Kloeden, a friend and teammate of Jan Ullrich, who was among nine riders barred before the start because of doping allegations.
But Leipheimer is forgetting a fourth: his Gerolsteiner teammate Georg Totschnig. The Austrian finished seventh at the 2004 Tour, two spots above Leipheimer, who was then racing for Rabobank.
Leipheimer's spotty memory is perhaps not accidental. At some point on this Tour, he may have to shelve his own ambitions and ride in support of Totschnig if the team decides that the Austrian has the best chance to win. But the reverse could be true, too.
For the moment, the squad says that both are team leaders and that the decision on who is in the best position to ride for the Tour crown will be judged on Saturday's long time trial and their performances during the tough climbs of the Pyrenees and Alps.
"We have two jokers to play with," said the team's press officer, Mathias Wieland.
The real racing for the overall title won't start until the time trial and mountains.
Leipheimer finished 56th in Wednesday's 129-mile stage from Huy, in Belgium, to Saint-Quentin in northeast France.
McEwen dedicated his 10th stage victory in nine Tours - and his second this year - to his American teammate Fred Rodriguez, who crashed out of the race in Tuesday's accident-strewn stage three when another favorite, Alejandro Valverde, broke a collarbone and dropped out.
Rodriguez's accident - he rode into a pothole - deprived McEwen of the rider assigned to lead him into the final stretches of sprint finishes, the Australian's forte.
But another Davitamon-Lotto teammate, Gert Steegmans, more than filled that gap Wednesday. McEwen, still one of the most explosive Tour riders at the age of 34, compared Steegmans to a "locomotive."
"He did it just perfectly," McEwen said. "Even if I had written a script, it could not have gone any better."
Leipheimer finished eighth, ninth and sixth in the three Tours he completed in 2002, 2004 and 2005. He is the highest-placed finisher left from last year. Armstrong following his record seventh straight crown.
Runner-up Ivan Basso, third-place Ullrich and fourth-place Francisco Mancebo were implicated in the same Spanish doping probe, as were five teammates of the fifth-place rider last year, Alexandre Vinokourov, forcing him out, too.
"My chances have improved," Leipheimer said. "It's more responsibility for me and my team but I think it is something that we are looking forward to."
Other Americans looking good so far are Armstrong's former Tour support riders, Floyd Landis and George Hincapie. Hincapie has worn the race leader's yellow jersey for a day so far and now lies third overall, behind Boonen and world time trial champion Michael Rogers from Australia.
Copyright 2018 The Associated Press. All rights reserved. This material may not be published, broadcast, rewritten or redistributed. We strive to uphold our values for every story published.