Newport, R.I. — Annika Sorenstam seized control from the start Monday, eager to prove her point. She won the U.S. Women's Open after 10 years of frustration, and delivered a defiant answer about her place in the game and her so-called slump.
Walking briskly between shots, leaving Pat Hurst behind on the fairways and on the scorecard, Sorenstam turned the 18-hole playoff into a snoozer at Newport Country Club with a 1-under 70 for a four-shot victory.
It was the largest margin of victory in a playoff at the major since Kathy Cornelius won by seven shots 50 years ago.
Sorenstam led by five shots at the turn, but she didn't celebrate until tapping in for par on the final hole, placing the putter behind her neck and raising her head in utter relief.
"It's fantastic," she said. "It's been a long wait, and a long road. On the way, I learned a lot. The way the season has gone, up and down, to win the Open is pretty ironic."
Sorenstam won her 10th major championship, tied with Babe Zaharias for fourth all-time and only five majors behind Patty Berg in LPGA Tour history. She has won a major in each of the last six years, the second-longest streak in LPGA history.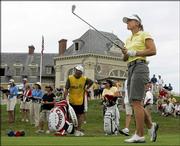 But this wasn't just another major.
The U.S. Women's Open is by far the biggest event on the LPGA Tour, and Sorenstam figured she would pile up several titles after winning in 1995 and 1996, so dominant in her second victory that she missed only five fairways all week at Pine Needles and won by six.
But it has been nothing but frustration since then.
Juli Inkster overcame a two-shot deficit to beat her in 2002 at Prairie Dunes. Meg Mallon outplayed her at The Orchards two years later. Sorenstam sometimes beat herself, making bogey on the par-5 18th at Pumpkin Ridge to miss a playoff by one shot in 2003.
Sorenstam had won 63 times and seven majors since her last Open victory, establishing herself as the best in the game, missing only another U.S. Open title for validation. And when her 30-foot birdie putt on the 18th hole Sunday evening rippled over the right edge of the cup, she might have wondered whether she was being teased again.
Hurst holed a 5-foot par putt to force the 10th playoff in the 61-year history of this championship. Both finished at even-par 284, a testament to the demanding conditions at Newport.
But it was a different story Monday.
Both players had a sand wedge into the par-5 first hole, and Hurst showed some tattered nerves by hitting it heavy. The ball landed by the cup, then spun down a ridge and off the green. Sorenstam fired through the ball, and it spun off the back of the green to 6 feet away. Hurst left her birdie putt 10 feet short, and her par putt didn't even reach the hole.
Sorenstam poured her putt into the middle of the cup, quickly building a two-shot lead.
On the next hole, Hurst hit another wedge that stopped 4 feet below the hole, and it looked as though she might get both strokes back when Sorenstam hit her approach 40 feet above the hole, trickling it down to 4 feet. Hurst pulled her birdie putt, Sorenstam made her par, and the rout was on.
"I didn't make any putts. That was what probably kept me back," Hurst said. "If I could have made some putts, it would have been closer, I could have put pressure on her."
Sorenstam added an 8-foot birdie putt on the third hole to lead by three, and Hurst was at her worst at No. 6.
Hurst drove into the face of a bunker, laid up in the left rough and hit wedge to about 25 feet above the hole. Sorenstam went from the rough to a muddy bunker 40 yards from the hole, chunked her shot and had 65 feet for par. They both lagged nicely, but Hurst jabbed her 3-foot putt and it lipped out, giving her a double bogey.
That put her four shots behind through seven holes, and Hurst dropped another shot on the ninth by missing a 6-foot par putt. She went out in 4-over 39, trailing Sorenstam by five shots.
Copyright 2018 The Associated Press. All rights reserved. This material may not be published, broadcast, rewritten or redistributed. We strive to uphold our values for every story published.