Photo Gallery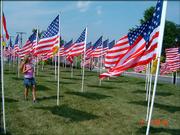 4th of July - Reader Photos
Maurice Lafleur had no idea the gunpowder-laced stash in his basket was illegal in Lawrence.
"I really didn't hear anything about a ban," the 34-year-old Lawrence resident said Monday, as he stocked up on Roman candles, Saturn Missiles and a Friendship Pagoda at the Pine family's fireworks stand north of town.
"In our neighborhood, everybody's out there shooting (fireworks)," he said. "We even shot some off last night, and nobody said anything about it."
Just because the city banned most kinds of fireworks in 2003 doesn't mean the punks have been extinguished.
Some Lawrence fireworks shoppers are defiant - willing to flout the city ordinance in exchange for the thrill that comes with setting the fuse on Dr. Pyro's Chaos Machine or some other artillery-like device.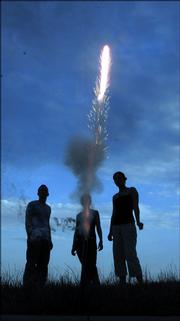 "I think many of them are city people, to be quite honest with you," stand co-owner Jim Pine said Monday as he leaned across the counter wearing an American flag T-shirt. "The main advice that I give them is 'Just don't cause any trouble with them.' You've got to use your head."
Citing concerns about safety and trash left in streets, the City Commission in 2003 banned most types of fireworks, with the exception of items such as confetti poppers, sparklers and magic snakes.
The county allows fireworks between July 2 and July 4, as long as they're set off on private property with the owner's permission. Locations also will be provided in the county at Lone Star Lake and Wells Overlook, according to Fire Marshal Rich Barr.
Lawrence Police will be out today enforcing the ban, along with two or three firefighters from Lawrence-Douglas County Fire & Medical.
Between Friday and early Monday, Lawrence Police had responded to 54 fireworks-related complaints.
Send us your photos
The Journal-World wants your Independence Day celebration photos to run on ljworld.com today. Simply shoot moments from your picnics, backyard volleyball games and barbecues, then go to ljworld.com/fourth to upload your photos by 5 p.m. today. A selection of reader photos will be published in the Journal-World on Wednesday.
"Generally, it was people reporting that they were hearing fireworks or people reporting seeing fireworks," Lawrence Police spokeswoman Kim Murphree said.
The penalty for a fireworks violation can range from $100 to $200. Officers might not always issue a citation at the scene, but they do confiscate the fireworks, which are then given to the fire department to be destroyed.
"I just think it's important that the public become aware of what the city ordinance is," Murphree said.
The fire department destroys the fireworks in a logical way: by dunking them in trash bins filled with water.
Tonight's Fireworks displays
Here is a list of today's Independence Day fireworks displays, which begin at dusk or shortly after. ¢ Fourth of July Fireworks Extravaganza put on by the Lawrence Jaycees, Burcham Park, 200 Ind. Bands will perform before the display. There is no admission for the event. The Journal-World is sponsoring the buses that will transport people to the park. As in previous years, the buses will make a loop of downtown parking lots to take people to and from the park. If you can't attend, you can watch the display on Sunflower Broadband Channel 99 through the Coldwell Banker McGrew Towercam. There will be two free concerts Tuesday evening at Burcham Park before the fireworks display. The Heebie Jeebies will play from 6 p.m. to 7:30 p.m., and Stephen Hunnicutt and The Dreamwalkers will play from 7:45 p.m. to 9:30 p.m. ¢ Eudora Parks and Recreation Department will put on a fireworks display for people gathered in the parking lots at Eudora Middle School, 2635 Church St., and High School, 2203 Church St. ¢ Baldwin High School, 415 Eisenhower Road, near the ballfields. ¢ McLouth Sports Complex. Residents are encouraged to park and view the display from Bulldog Lane. ¢ Basehor-Linwood High School, 2108 N 155th St., Basehor. A parade will precede the event at 6 p.m. ¢ Fourth of July at Fort Leavenworth with fireworks on Grant Avenue at Merritt Lake. ¢ Fourth of July Celebration, City Lake, 14824 246th Road, Holton. ¢ Fire in the Sky, Shawnee Mission Park, 7710 Renner Road, Shawnee.
Open or closed?
¢ State and local government offices and public services in Lawrence and Douglas County are closed today. ¢ Banks are closed. ¢ Liquor stores are open. ¢ Lawrence Bus Co. buses are not running. ¢ Lawrence Transit System fixed routes and paratransit buses are not running. Parking at meters in downtown Lawrence is free today. ¢ The Lawrence-Douglas County Health Department offices and clinic are closed. The Lawrence Workforce Center is closed. ¢ No residential or solid waste will be collected today, and regular residential routes will be delayed one day for the rest of the week. For example, today's pickup will be Wednesday. ¢ To report a water or sewer emergency during the holiday, call 843-2685. ¢ Prairie Park Nature Center, 2730 Harper St., is open from 9 a.m. to 5 p.m. and Eagle Bend Golf Course is open. ¢ Lawrence Outdoor Aquatic Center, 727 Ky., will be open from 1 p.m. to 6:45 p.m. and the Indoor Aquatic Center, 4706 Overland Drive, will be open from 5:15 a.m. to 6:45 p.m. South Park Wading Pool will be closed, and there also will be no Summer Playground, Mini Munchkin Camp, Unified Day Camp or Nature Summer Camps. ¢ The Lawrence Public Library is closed. ¢ There will be no regular mail delivery Tuesday. ¢ Home delivery and Bus 62 senior service meals have been canceled today. All activities at the Lawrence Senior Center are canceled. Meals also are not being served at Babcock Place, Edgewood Place, Lecompton, Eudora and Baldwin senior centers. ¢ Lawrence Meals on Wheels will deliver.
Copyright 2018 The Lawrence Journal-World. All rights reserved. This material may not be published, broadcast, rewritten or redistributed. We strive to uphold our values for every story published.