Brad Barker, 23 and Heidi Karn, 22, first met 14 years ago in McLouth's elementary school. They were 8-year-olds in Vickie Estle's third-grade class.
Heidi remembers it well.
"He knocked over my crayons," she said, smiling at Brad.
With the crayon episode behind them, Brad and Heidi were married Saturday, June 24, in McLouth's First Baptist Church.
They made it look easy but there were a few bumps along the way.
One has a name, cystic fibrosis. Heidi was diagnosed with the disease when she was 18 months old.
"At the time she was diagnosed with CF, the average life expectancy was 21 years," her mother Tracie Karn said. "If 21 is the average then age 10 is the bottomline."
Instead of focusing on what they didn't want to happen, the Karn family concentrated on what they could do day to day. They tried to instill in Heidi that she could be an inspiration to others.
"Last Saturday was a big day, a culmination of a dream come true for Heidi and it was a celebration for our families," Tracie said.
Audio Slideshow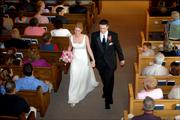 Couples - Karn and Barker, June 25
With the exception of two or three close family friends, everyone involved in the wedding - ushers, bridesmaids, ring bearer, wedding hosts, coordinators and others - were cousins, aunts, uncles, sisters or parents of the bride and groom.
"It was a family celebration and we wanted to involve as many family members as possible," Tracie said.
After varying degrees of friendship through middle school and high school, Brad and Heidi became an item their senior year, the year they reigned as McLouth High School's King and Queen of (basketball) Courts. That was 2001. That was the year Brad gave Heidi a "promise ring" indicating he had serious intentions.
Their high school dates took them to places like "Smileys," a driving range in Bonner Springs but more took them to Lawrence, where they watched movies and ate at their favorite restaurant, Paisano's Ristorante.
"I remember when I decided about Brad during our senior year ... it was during a Dave Matthews concert at Sandstone," Heidi said.
They've attended 11 Dave Matthews concerts since 1997. Ten lines from Dave Matthews' song "Rapunzel" appear in their wedding program. Pastor Scott Barry used a couple of the band's lines during the wedding ceremony.
"Everyone was a little surprised that we'd want to make the big leap from a small town, graduating class of less that 40 to KU with a student body of 30,000 but it never felt that big to us," Brad said.
Both thought it would be fun to share an apartment with their best friend Jason Owen.
"I wasn't too pleased with the 'Three's Company' idea," Heidi's mother Tracie recalled. "It might be old fashioned but we thought you just don't live together before marriage."
So much for their adventure in living.
Couples - Heidi Karn and Brad Barker
Brad majored in economics and worked as a bookkeeper at Allen Press, and Heidi studied psychology while working at KU's Office of Financial Aid.
As Heidi became less active, her cystic fibrosis became more of a problem. Besides the two 45-minute treatments she has taken daily "forever" she had to do hospitalizations at Children's Mercy Hospital in Kansas City, Mo., during school breaks. She refers to them as "tune-ups" that could last as much as two weeks.
Maintaining her weight, which is now about 122 pounds, can be a problem and requires a goal of eating 3,200 calories daily and high calorie foods like Hamburger Helper. She likes her potatoes deep-fried in Crisco and dipped in ranch dressing. She'd like to hit 130.
"It would be nice to have a little bit of a behind so my jeans would fit," she said laughing.
"Besides his moral support, Brad makes a great jambalaya," she said. And, he regularly helps with her daily treatments.
Before proposing, Brad visited Heidi's parents a few days before her birthday.
"He told us that he loved our daughter very much and wanted to marry her," Tracie Karn recalled. "And we'd probably been more surprised if he hadn't been carrying a paper bag from Kizer-Cummings Jewelers."
Both got their degrees in four years and their part-time jobs have become full-time positions. Heidi is a financial aid counselor and Brad a staff accountant.
"We feel fortunate and my doctors think my getting through KU in four years was an accomplishment ... I'm sorta proud of that too," Heidi said.
Dr. Phil Black, her pulmonologist, and Marci Mulloy, her respiratory therapist, both from Children's Mercy, must have been proud too, sitting there in McLouth on a Saturday afternoon watching their patient and friend enjoying her big day.
Copyright 2018 The Lawrence Journal-World. All rights reserved. This material may not be published, broadcast, rewritten or redistributed. We strive to uphold our values for every story published.