It was Father's Day. I was doing the grilling, and the kids were starting to filter into the backyard.
"Is that it?" Arna asked, walking up.
"No, that's the old one. He's supposed to go out and get the new one," my daughter Bonnie told her boyfriend.
"The new one?" I asked.
As I grilled more hamburgers and hot dogs on my 1970s-era kettle grill, I got the word: The family was getting me a new grill.
And part of the gift was to let me research and pick it out myself for our next backyard gathering on the Fourth of July.
Passion for propane
The agonizing process began. Propane or charcoal?
After two days of Internet searching and lifting the grill lids at local hardware stores, I still was undecided.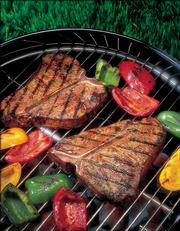 It took my wife two seconds.
"Propane," she said. "You already have a charcoal grill."
For quick meals on the fly, propane would be great. I shrugged. It sounded reasonable.
Phase II was figuring out which one.
There are plenty of propane grill issues: How many burners? How many BTUs? Stainless steel or aluminum? Do you need a side burner? What kind of igniter?
And then there's the cost. Do you spend only $150 or just go completely nuts?
OK, I had to look.
I peeked online at a high-end model - a Kalamazoo Bread Breaker Two Plus Smoker Box Gourmet Stainless Steel Grill.
It will crank out 176,000 BTUs, has a smoke box and an infrared searing burner that will get up to 1,000 degrees.
Audio Clips
Grilling
It also has bowtie-shaped burners and is available in natural gas or liquid propane.
And it has 3/16-inch, laser-cut stainless-steel grilling surfaces optimized with a preferred pattern (thick diagonal slots for most meats, wavy slots for fish and thin diagonal slots for veggies.)
All that and only $9,950.
Hmm. Maybe I could talk one of the twins into dropping out of college.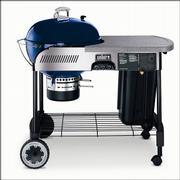 Playing the field
I decided to start at the other end of the price spectrum and work my way up.
I wanted three main burners. And I liked the idea of a side burner with a flat griddle to toast buns. I also didn't want it to rust out in a couple of years.
I checked out a few consumer Web sites and found Char-Broil had a model under $300 that might work for me.
The Char-Broil Advantage 463453305, priced about $270, has three removable porcelain-coated cast-iron grates, three cast-iron burners, a separate side burner with a cast-iron flat griddle and electronic ignition.
Its three burners deliver 45,000 BTUs and 480 square inches of primary cooking space. It also has a warming rack with 195 square inches.
CR rates it a Best Buy. Consumer Guide also gives it a "recommended" rating. Epinions gives it four out of five stars, saying the grates aren't that easy to clean and the handles heat up.
Bling for the Barbecue
Don't forget: A grill provides the heat, a cooking surface and takes up space on the porch. But you still need stuff to cook with. Here are a few accessories, offered by Hammacher Schlemmer, that can dress up the barbecue: ¢ Cordless LED Grill Light ($49.95). This clamps on your grill and has a flexible 18-inch neck, uses long-lasting LED lights rather than bulbs and is powered by three AA batteries. Brats at midnight, anyone? ¢ Marshmallow rotisserie ($39.95). The hand-held tool runs off four AA batteries, gently rotating three marshmallows. Still needed: an automatic scrub-the-burnt- marshmallow-residue-off- the-skewer apparatus. ¢ The Stadium Hot Dog Griller ($39.95). It's an AA battery-powered, hand-held tool that you sit on the grill, keeping your hot dogs or brats constantly turning on rollers so that they're evenly cooked. Think microwave warmth with real-life smoke.
"This is it," I told my wife.
Old flame
I lifted the lid on the much-researched Char-Broil propane pick and looked inside. I tilted up the grate, pulled up the heat angles and stared at the burners.
Everything looked great. But something was very wrong.
The words of local chef and food writer Tom King kept playing over and over in my head - "defeats the whole purpose... defeats the whole purpose..."
"I am really anti-gas grills," King had told me earlier in the day. "A gas grill defeats the whole purpose of cooking outdoors."
Looking at the propane model, I shook my head.
"I can't do it," I told my wife, stepping away. She was puzzled, so I explained.
I couldn't give up charcoal. Not for speed. Not for convenience.
To me grilling was all about the flame, the charcoal and wood smoke and the flavor.
"You should get what you want," she said.
I felt relieved. Everything became clear. I could go for the best of both worlds.
I decided to buy a grill I had been looking at for many years: a Weber Performer.
It's a 22.5-inch kettle charcoal grill that uses propane - not for cooking, but to start the coals.
"I want a blue one," I told the guy at the next hardware store.
He checked in the back. All they had was the black floor model, but no paperwork for it. He called to the other store across town. Same story. We left.
"It's the search for the Holy Grill," I told my wife as we talked about going out of town to look.
She had an idea.
We went home and found it online at Amazon.com for $299. Sometime today or Monday, the grill of my dreams will finally get here.
Now if I can just assemble it before the kids show up.
Copyright 2018 The Lawrence Journal-World. All rights reserved. This material may not be published, broadcast, rewritten or redistributed. We strive to uphold our values for every story published.