Librarians have a label for the time that we're living in: The Age of Google.
The shadow of the world's most dominant search engine increasingly can be found in libraries nationwide. Today, a few keystrokes on a home computer can produce information that historically has been the bailiwick of a library's reference department.
Soon - thanks to a 2004 agreement with major libraries at universities such as Michigan, Stanford and Oxford - Google users will be able to access millions of pieces of work that have been scanned in directly from the libraries' holdings. And with Google's founders having a widely reported goal of making all the world's information available to anyone with a Web browser, more is on the way.
"I think there is going to be a really amazing revolution take place in the world of libraries in the next 10 years," said Robin Chandler, who has worked with Google, Yahoo! and others as a top executive with the California Digital Library, an all-Internet library run through the University of California.
What Lawrence leaders must figure out is whether it will be a bloody revolution for a city that is considering building a new, much larger downtown library that has cost estimates ranging from $40 million to $70 million.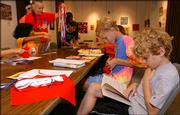 After all, if the country is swept up in a new technological movement of library-quality search engines and electronic books, will Lawrence need nearly 130,000 square feet of bricks-and-mortar library space?
Bruce Flanders, executive director of the Lawrence Public Library, says a new library would be about two-and-a-half times the size of the city's current library, if built as proposed. But Flanders says he isn't worried the community could be poised to overbuild.
"There is not one ounce of fear in my body about that," Flanders said. "I know we could provide some very effective and wonderful library services that the community would be proud of."
City commissioners have not decided whether to move forward on a new library project. But four developers have proposed public-private partnerships to build downtown libraries. One of the companies involved is The World Company, which publishes the Journal-World.
A home run away
Flanders speaks with confidence about the future success of a new library because he has numbers to back him up.
"Our experience is that library usage is skyrocketing," Flanders said.
From 2000 to 2005, the number of visits to the library has increased 31 percent to 498,131. The library's circulation - the number of items loaned out - has increased during the same period by 53 percent to just under 1 million items.
Those increases are stronger than national averages, but libraries nationwide are continuing to see growth, according to industry statistics. From 1991 to 2002, per-capita visitation to libraries increased from 3.3 visits per person to 4.2. Circulation also increased by 41 percent from 677 million to 956 million.
Some library and information science leaders, though, wonder whether this is the calm before the storm. That's partly because America is at an interesting time. The children in junior highs and high schools today mark the first generation that has had computers and the Internet as a major part of their lives since birth. They never knew the pre-Web world.
For Garth Conboy - president of La Jolla, Calif.-based eBook Technologies Inc. - that means a major shift is on the horizon. Generation Y will adopt the Internet as its reference library of choice in much greater numbers than previous generations, he believes.
The second shift - which Conboy expects to see in the next 10 years - is that electronic books will become a new phenomenon.
"I continue to believe that there is going to be a homerun product in the consumer e-book space," said Conboy, whose company develops new e-book products. "I'm hoping, and I guess really betting, that will happen in the next five to 10 years."
Such a product will be some type of electronic device that isn't much heavier or larger than a book and has easy-to-read texts and features that will allow users to do electronic searches of books and take notes while they read.
Some electronic book tablets already exist on the market for less than $150, and Conboy estimates at least half of the New York Times bestsellers are available in e-book form.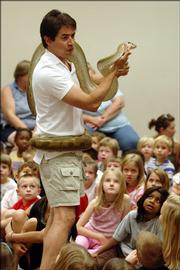 Not even Conboy, though, is so optimistic to predict that e-books will replace paper books anytime soon. That probably won't happen in his lifetime, he said, but he believes the day is coming when e-books become the preferred choice for large segments of the population. That would be in addition to the growing audio book market that is allowing iPod users to download entire texts for their listening pleasure.
It all, obviously, would have large implications for how libraries are designed and function. Flanders agrees more and more research and reference materials will be digital. He said the library is already taking that trend into account.
But he isn't convinced the day is coming soon when people will begin curling up with an electronic tablet to read the latest Dan Brown or Dr. Phil book. The good old traditional book is tough to beat when it comes to portability and ease of use. Plus, it has multiple centuries of use, which has firmly ingrained it in the social fabric.
"I just haven't seen any killer type of application for e-books that is going to create a seismic shift that changes the way people read novels, or books on gardening or health or whatever," Flanders said. "That doesn't mean that companies won't keep trying to find that application. But from where I stand, the printed book is going to be around for quite awhile."
Survey reflects trends in use
Here's a look at findings from a national survey released earlier this year by the Americans for Libraries Council.
¢ In today's world with Internet access, online databases and large booksellers, such as Amazon.com and Barnes & Noble, do you think libraries have become more, less or the same importance to their communities? Same: 37 percent Less: 36 percent More: 24 percent
¢ Do you think information found by yourself on the Internet is more reliable, less reliable or just as reliable as information that a reference librarian directs you to? Just as: 47 percent Less: 28 percent More: 13 percent
¢ Percent of people who give an "A" grade to the following services in their community: Library service: 45 percent Parks: 31 percent Public education: 25 percent Health care: 22 percent
¢ Top reasons why people don't use the library: Too busy: 24 percent No interest/no use: 17 percent Use Internet: 13 percent
¢ Have you used a library for Internet access: Yes: 34 percent No: 66 percent
¢ Major tasks and goals a library should accomplish: Safe place for teenagers: 74 percent Literacy programs for adults: 68 percent Repository for government forms and information: 64 percent Public access to computers and Internet: 64 percent
¢ Books are better for pleasure reading than electronic methods. Agree: 86 percent Disagree: 12 percent
Time will ultimately answer the question. But Conboy notes the trade association that represents the e-book industry has had a slew of high-profile companies join within the last month. The biggest: Amazon.com, the Internet book behemoth.
More than books
Some national library experts, though, say even if e-books, audio books or some other type of book technology becomes wildly popular, libraries will thrive.
That's because libraries are taking on an expanding role in communities, or perhaps even in society.
"Libraries are very much community centers," said Fred Schlipf, director of the Urbana, Ill., Free Library and an adjunct professor at the highly ranked University of Illinois Graduate School of Library and Information Science. "Part of the reason is this is a more lonely and isolated age than it used to be. People spend a lot of time in libraries."
Flanders said he thought that was definitely a role Lawrence's proposed new library would play. He said a new 130,000-square-feet library would include room for much more than books. It would add space for 100 additional computers, a more than fivefold increase in meeting space and specially designed rooms for teenagers to explore books, music, food and more.
"The idea of a library as an intellectual commons for a community is really spreading its wings," Flanders said.
Communities are increasingly thinking outside the box about what type of services to provide. Chandler, with the California Digital Library, said she can envision libraries of the future loaning out iPods like they loan out books today.
Information about finances and health also are expected to be growing areas of emphasis. Flanders said he already sees many home-based business owners using the library as workspace and would expect to see more of it if the community builds a library that has wireless Internet access.
Some libraries, like one in Great Falls, Mont., have taken to the idea of helping patrons learn more about their own bodies. The library started a unique program to lend pedometers so people can measure how far they walk in a day.
Statistics suggest libraries aren't putting projects on hold to see what the future brings. According to industry statistics, the number of library construction projects has remained stable since 1969, at about 215 per year. The more recent trend, though, has favored remodeling and additions rather than new library construction.
Schlipf, who teaches a library architecture class and also does some consulting in the field, said the new projects definitely are getting bigger all the time. He said there's nothing unusual about a city like Lawrence - whose library is 34 years old - going from a building of about 45,000 square feet to one of about 130,000 square feet.
"The libraries I see being built now are much larger than they've ever been before, and nobody is saying, 'We shouldn't have built that much space.'"
Maybe, maybe not, said Chandler.
"I am convinced that what will start to happen is increasingly the public will be able to access a lot of the material they get from a library from their own homes," he said. "This really is the time to think about what are the values of a library."
Copyright 2018 The Lawrence Journal-World. All rights reserved. This material may not be published, broadcast, rewritten or redistributed. We strive to uphold our values for every story published.