Anaheim, Calif. — The Angels swapped one Weaver brother for another Friday, designating right-hander Jeff for assignment and replacing him with right-hander Jered from Triple-A Salt Lake.
Jeff Weaver is 3-10 with a 6.29 earned-run average in 16 games this season. Opponents were hitting .309 against him.
He got pounded in his most recent start, giving up six runs in two innings of a 12-4 loss to Colorado on Tuesday.
"No one took his performance any harder than Jeff did," manager Mike Scioscia said. "He had shown some signs of throwing the ball much better his last six starts up until the last one. He was encouraged he was going to keep moving forward. He's got about a half-season under his belt and the performance we would have expected wasn't quite there."
Jered Weaver was 6-1 with two complete game shutouts and a 1.99 ERA in 12 games over two stints in Salt Lake.
He originally had his contract purchased by the Angels on May 26, and was optioned June 17. He is 4-0 with a 1.37 ERA in four starts for the struggling club. Opponents are hitting .170 against him.
"This was the only direction we could go to get Jered in our rotation," Scioscia said. "Jered is ready and hopefully he's going to step in and give us a boost."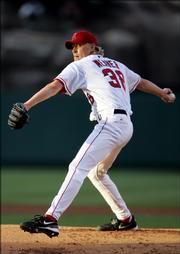 He was expected to join the team later Friday and will start Monday at Seattle.
"It could have been anybody creating this opportunity," Scioscia said. "It's really just coincidence right now it's his brother."
Before making the move, the Angels had no takers for Jeff in a possible trade, general manager Bill Stoneman said. The team now has 10 days to trade or release him.
"We've had a lot of conversations," he said. "For the time being, there wasn't a deal to be made. We'll see if we can get one done."
Stoneman described 29-year-old Jeff as "subdued" upon hearing the news he was being dropped for his 23-year-old brother.
"He understands that his brother's time is now and he sees the depth of our rotation," Stoneman said. "We have a lot of guys that are pitching at a very high level now."
The Angels didn't want to send Jeff to the bullpen, either.
"He appreciated the fact that we weren't going to just burn him in the bullpen," Stoneman said. "That would have been probably the worst situation for Jeff. He's going to pitch well for some club. You can see it's in him."
The continued progress of Bartolo Colon also played a part in Jeff's demise. Colon made his third start Friday night against the Dodgers since coming off the disabled list with an inflamed right shoulder.
"Colon has come out of his two starts fine and hopefully is going to continue to make progress," Scioscia said.
Jeff pitched for the Dodgers last season, going 14-11 with a 4.22 ERA before signing a one-year deal worth $8.3 million with the rival Angels after rejecting a one-year contract via arbitration from the Dodgers.
Copyright 2017 The Associated Press. All rights reserved. This material may not be published, broadcast, rewritten or redistributed. We strive to uphold our values for every story published.