Navigating Independence Day potato salad prep is a nightmare in my family.
It's a case of everyone demanding it their own way (and it baffles me that such an innocuous dish can elicit such strong feelings). Our solution? Boil tons of potatoes together, then divide them into as many as a half-dozen varieties of salad.
I'm easy. Heaps of crunchy vegetables, hard-cooked eggs and gobs of mayonnaise make my perfect potato salad. My wife, however, prefers hers without the crunch. Her version loses the celery, but keeps the onion.
My father-in-law won't eat vegetables, so his has just mayo and eggs. My mother's versions keeps the vegetables, but ditches the egg and substitutes soy mayonnaise (she's vegan). My father will eat anything, as long as the mayo is low-fat.
This year, I don't want to deal with any of that. It becomes impossible to keep track of which bowl is which salad, and I'm convinced I've accidentally given my mother the wrong version several years in a row.
So I started looking for some sort of salad everyone (or at least a majority) could settle on. I wanted something light and barbecue-friendly, but without the mayo-vegetable-egg baggage that causes so much trouble.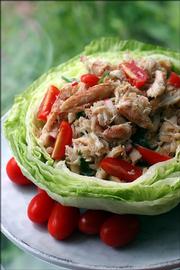 Crab salad provided the perfect answer. Most seafood salads call for mayonnaise, but I find these cloying. Mayo works in potato salad because the starch of the potatoes offsets the fat. Seafood can't pull it off as well.
This meant the dressing would be oil-based. A little olive oil, lemon juice, salt and pepper made a simple "vinaigrette" that nicely seasons but doesn't overpower crab meat.
For texture and a bit of bite, I also tossed the crab with red radishes cut into thin matchsticks and just a bit of garlic.
The result was outstanding. The flavor is light, but the salad, like the potato salad I was working to replace, is substantial. The prep also is much faster than potato salad. I used canned lump crab meat and made the salad in minutes.
For an attractive presentation, I serve the salad in hollowed-out heads of iceberg lettuce. This looks refreshing, and gives the diner the option of adding greens to each bite. Of course, a bowl works just as well.
Crab Salad Vinaigrette
2 heads iceberg lettuce
1/4 cup extra-virgin olive oil
Juice of 1 lemon
2 cloves garlic, finely minced
1 teaspoon kosher salt
1/2 teaspoon freshly ground black pepper
1 scallion, finely sliced
4 red radishes, cut into fine matchsticks
4 cups lump crab meat
4 cherry tomatoes, cut into quarters
Cut each head of lettuce in half across the center. Lightly trim the rounded end of each half to create a flat surface for the bowl to stand on. Carefully remove the core of each half to create four bowls. Put each on a plate and set aside.
In a medium bowl, whisk together the olive oil, lemon juice, garlic, salt and pepper. Add the scallion and radish and mix to combine.
Add the crab meat and gently toss to coat evenly with vinaigrette. Mound a fourth of the crab salad in the center of each lettuce leaf. Garnish with tomatoes.
The salad can be refrigerated for up to a day.
Makes 4 servings.
Copyright 2018 The Associated Press. All rights reserved. This material may not be published, broadcast, rewritten or redistributed. We strive to uphold our values for every story published.