Dili, East Timor — East Timor's Nobel laureate foreign minister said Friday that he would control the government until a new administration was named, which he predicted would happen within days.
Jose Ramos-Horta told AP Television News that a new government would put East Timor "on the right track" after months of violence and political turmoil.
The United Nations warned the country faced severe food shortages and said the World Food Program could run out of money and food for East Timor within a couple of weeks.
"If we do not get the economy back up and running, if we do not get food to the internally displaced persons expeditiously, we're going to be in real trouble," said Finn Reske-Nielsen, U.N. humanitarian coordinator for East Timor.
The ruling Fretilin party plans within the next several days to name a replacement for Mari Alkatiri, who stepped down as prime minister Monday amid allegations that he knew weapons were being handed to militias hunting his opponents during the civil unrest. Alkatiri also was accused of sparking the unrest by dismissing much of the army.
"In the next few days we should have a new government in place with the support of the ruling party and all the other parties," said Ramos-Horta, who won the 1996 Peace Prize for nonviolently helping end his nation's occupation by Indonesia. "We are on the right track."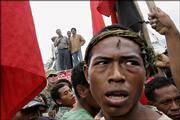 Alkatiri failed to appear for questioning by prosecutors over the militia allegations, saying in a letter to authorities that as a member of parliament he has political immunity, the prosecutor general said.
Suspicions about Alkatiri gained ground last week when former Interior Minister Rogerio Lobato, a deputy Fretilin leader and a key political ally, was indicted in the case.
The prime minister's departure created fears that a power struggle might erupt within the political elite and spark violence by members of Fretilin, who rallied Thursday demanding the party have the right to choose his successor.
Ramos-Horta has been mentioned as a possible successor, but he declined to speculate who will assume the top job.
In an interview published Friday in the Portuguese newspaper Publico, Alkatiri said his replacement did not need to be a member of Fretilin, but should be experienced in government.
"They at least have to merit the trust of the party," he said.
Copyright 2018 The Associated Press. All rights reserved. This material may not be published, broadcast, rewritten or redistributed. We strive to uphold our values for every story published.