Clinton, Mo. — About 1,200 people, many dressed in black and clutching tissues, gathered here Friday to remember Tony Komer, a "great family man" and respected Elks member who was killed when the group's lodge suddenly collapsed.
Signs outside the Benson Convention & Exposition Center, where Komer's funeral was held, read "God Bless the Elks," and flags and banners were draped outside. About 60 flower arrangements crowded the stage, and a large American flag hung in the background.
"Tony was an amazing husband, father and friend," said Jeff Dull, reading a statement from the family. "He died doing something in which he truly believed, and we know it would be his hope that the Elks and the community rebuild, not only the building, but their faith in God and brotherhood."
The lodge, a three-story brick building across from the Henry County Courthouse on Clinton's town square, collapsed Monday as about 50 lodge members were finishing dinner on the second floor.
Komer, 32, the lodge's exalted ruler, had retreated upstairs to rehearse a speech he was to give during an initiation ceremony for five new members. As the roof began caving in, most of the men fled to safety.
Ten were trapped, and after nearly 10 hours, rescue crews had pulled all but one from the rubble.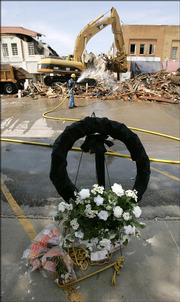 "As people began to gather, prayers went up. As word went out, prayers came in from around the country," said the Rev. Phil Egan of Holy Rosary Catholic Church in Clinton. "Angels were present in the rubble. Ten were trapped. They gathered for the one who shielded the other nine, because when the angels gathered around Tony, they kept the other nine safe."
Todd Pogue, an officer in the lodge who managed to escape, said he had thought about joining Komer on the third floor, before it came toppling down.
"I've spent a lot of time thinking about how close I was to being with Tony upstairs," he said in an interview outside Friday's service. "I knew Tony had struggled to get his part memorized. I said, 'I'll give him five or 10 more minutes.'
"I was getting ready to sit down when I heard a snap."
'Pulling together'
Before the service, Trish Russell, whose brother played baseball with Komer growing up, said people in the town were somber, their thoughts with his wife, Sara, and two children, ages 5 and 2.
"Everyone is pulling together and trying to be strong," said Russell, who called Komer a great family man and church member. "Every time you saw him, he was holding his kids - playing with them and just being a dad."
Russell's 10-year-old son, Vincent, chimed in: "He never did anything to anybody bad."
Among the crowd gathered for the ceremony were Elks members from lodges across the state.
Frank Scarpino, the president of the Laurie lodge, said he hopes to establish scholarships for Komer's children.
"We are all banded together to see, when the dust settles, what they need," Scarpino said. "We take care of the community, but also our own."
Scarpino said each of the 14 lodges in the west-central part of the state would send members to the city's parade today. The building collapse came as Clinton was preparing for its Olde Glory Days festival, which included a long-planned centennial celebration for the Elks.
Investigation
Forensic experts spent much of Thursday sifting through the rubble, looking for clues about why the more than 100-year-old building came crashing down.
Because Clinton has no city engineer, insurance companies hired their own investigators to determine the cause of the collapse, said Christy Maggi, the town's economic development coordinator. They finished their initial investigation, and demolition of the building began Friday.
Federal inspectors also looked at the building site and did not say when their study would be complete.
Gov. Matt Blunt toured the site with Clinton Mayor Gus Wetzel and lodge member Jim Smith on Friday afternoon, and Sen. Jim Talent said he planned to survey the damage this morning.
"This is the type of construction crash I've yet to see anywhere else in the state," Blunt said, adding that he wants to find out if the community needs anything from the state. "This is one of the more vibrant squares in the state, and we want to keep it that way."
Smith said he was relieved so few people were in the building when it collapsed.
"We don't know what happened. Something gave way and it came down," he said. "Had this happened last night or tonight, it would have just been unbelievable. We would have had whole families wiped out probably."
Maggi said inspectors expressed concern for three other buildings in the area, including a drug store next door that likely will need to be torn down.
Those reports made several residents question the integrity of the town square.
"It just happened without any warning. You expect crackles or something like that," Russell said. "There are some concerns about how safe are the older buildings."
Copyright 2018 The Associated Press. All rights reserved. This material may not be published, broadcast, rewritten or redistributed. We strive to uphold our values for every story published.