St. Louis — Kansas City closer Ambiorix Burgos, with no margin for error, kept St. Louis down.
Burgos (2-3) struck out pinch-hitters Scott Spiezio and Aaron Miles with the bases loaded to end the ninth inning of a tie game, the key to the Royals' 7-5, 10-inning victory Friday night. Pinch-hitter Matt Stairs' sacrifice fly in the 10th drove in the go-ahead run as the Royals handed their cross-state rivals their ninth loss in 10 games.
"That was a man's job right there, boy," manager Buddy Bell said. "The situation doesn't get any tougher than that. It was huge, really big."
The Royals have won only two of the last 10 against the Cardinals and got swept in Kansas City on May 19-21. Kansas City, which trailed 5-3 after five innings, rebounded from a 6-5 loss at Cincinnati on Thursday.
Mark Teahen, who homered against Adam Wainwright in the eighth to tie it at 5, led off the 10th with a walk against Braden Looper (3-1), and went to third on Emil Brown's single. Angel Berroa grounded into a force play against a drawn-in infield but Stairs, who's 3-for-10 in the pinch with a homer and four RBIs, hit a flyball just deep enough to score the go-ahead run.
"When I hit it I think I put my head down knowing I let the team down," Stairs said. "But when I looked up Teahen was going and he came in safe."
Joey Gathright followed with an RBI double for a two-run cushion for the Royals, 11-32 on the road overall but 9-12 since May 26.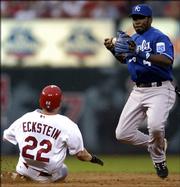 Looper said Burgos' escape in the ninth didn't factor into his struggles in the 10th.
"Obviously, with the bases loaded and one out there's a good chance, but you've still got to stay focused," Looper said. "I was mentally ready, but I just walked the first guy. You can't do that."
Pitcher Jeff Suppan had a pair of RBI singles to compensate for a so-so performance on the mound for the Cardinals, whose slump has come entirely against the AL Central. Juan Encarnacion had two hits and an RBI for St. Louis, which snapped an eight-game losing streak on Wednesday and had the day off Thursday.
"I made some mistakes tonight," Suppan said. "I had the leadoff guy on a lot, runners in scoring position a lot. Anytime you put yourself in that kind of trouble it makes it a little harder."
Cardinals manager Tony La Russa pointed the finger at Jim Edmonds, who stranded five runners with groundouts in the fourth and fifth and went 1-for-6 with a single in the 10th.
"Jim had a bunch of chances," La Russa said. "That one base hit he got in the 10th, if he'd had had that in any one of those other at-bats, it could have led to something good."
Doug Mientkiewicz homered and drove in three runs for the Royals. David DeJesus doubled twice and scored twice and Angel Berroa had two hits.
Royals starter Brandon Duckworth lasted 4 2-3 innings and gave up five runs, four earned, and 11 hits.
DeJesus led off the game with a double and scored on Mientkiewicz's sacrifice fly to put the Royals ahead, and the Cardinals began the second with doubles by Scott Rolen and Encarnacion to tie it. Mientkiewicz's fourth homer, a two-run shot in the third, put the Royals ahead 3-1.
Suppan's first RBI single cut the deficit to one in the fourth as Hector Luna deft slide, touching the base with his left hand, eluded a tag from catcher John Buck. His second RBI, this time on a bases-loaded infield hit, gave the Cardinals a 4-3 lead in a three-run fifth. Yadier Molina added a run-scoring single in the rally.
A third run scored, making it 5-3, when Berroa bobbled David Eckstein's routine bases-loaded grounder to shortstop with two outs and flipped late to second for a force even though Suppan was running.
Pinch-hitter Esteban German doubled in Berroa in the sixth to cut it to one. German is 6-for-11 as a pinch hitter.
Notes: Royals 2B Mark Grudzielanek had no errors for the 70th consecutive game, tying Frank White's franchise record set from Sept. 2, 1987, to June 20, 1988. He's the only regular 2B in the major leagues without an error. ... The Cardinals were 9-16 in June, ending a run of 14 consecutive winning months since July 2003. It's the third-worst June in franchise history behind an 8-21 record in 1971 and an 11-20 showing in 1965. ... Duckworth made the play of the game, snaring an Albert Pujols liner right back at him in self-defense in the third. ... Cardinals backup C Gary Bennett, who missed three games earlier this week with a muscle strain on his left side, caught the 10th.
Copyright 2017 The Associated Press. All rights reserved. This material may not be published, broadcast, rewritten or redistributed. We strive to uphold our values for every story published.