Robert Foster's distinguished music career began with a $2 cornet.
He was in second grade in the small town of Bishop, Texas, and his father - the town's band director - had just returned from World War II.
The elder Foster was trying to jump-start the school band program, which had taken a hiatus during the war. That meant recruiting pretty much anyone to play - including his young son. So he bought him a run-down cornet.
"I learned to play a C scale the first day," Robert Foster recalls. "I remember that as clear as I'm talking to you. It had to be awful, but I could play."
That simple beginning eventually led to a long career as a professional trumpet player, conductor, composer and arranger. He was band director at Kansas University from 1971 to 2002 and remains on the KU music faculty.
On Saturday, Foster will become the 47th band director - and the youngest - inducted into the National Band Association Hall of Fame at Troy State University in Troy, Ala. It's an elite group of conductors whose inaugural class included legendary bandmaster John Philip Sousa.
"We're thrilled he's taking his place with John Philip Sousa, among the greats," says John Long, who chairs the Hall of Fame committee for the NBA. "He's one of the very best. He's done about everything you can do."
Audio excerpt from "Peace Variations" by Robert Foster
Conducting focus
Foster, 67, opted to study trumpet at the University of Texas over a football scholarship offer from the University of New Mexico.
He says he learned the power of music when he spent a summer taking private lessons from Armando Ghitalla, then the principal trumpet player for the Boston Symphony. Police had to part the crowds of fans so Ghitalla and his fellow players could get to their cars after concerts.
Photo Gallery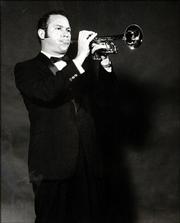 Robert Foster
After spending several years conducting junior high and high school bands while concentrating on professional trumpet playing, Foster decided to focus on conducting and became assistant director of bands at the University of Florida in 1964.
He took over the KU band program seven years later but never planned to stay in Lawrence 35 years.
"Heavens no," he says. "Why would anyone ever think that at that age? You don't have any idea where you're going or what the opportunities will be."
High visibility
When Foster arrived at KU, the band program consisted of one top ensemble, one concert band and a marching band, involving around 200 students total.
Now, the program has more than 500 students involved in three concert bands, wind ensemble, marching band, three jazz bands, two basketball bands and seven to nine jazz combos a semester.
Under Foster, KU bands performed at six conventions of the National Association for Music Education, the most for any band under the same conductor. In 1989, the marching band received the Sudler Trophy, the top award in the college marching world.
"It's that kind of visibility he's brought to the program," says Steve Hedden, dean of the School of Fine Arts at KU. "We're so pleased that Bob is getting this kind of recognition for a lifetime of achievement. And he's still very engaged."
In addition to composing and arranging, Foster continues to teach courses on brass-playing for music education students, and he coordinates student-teaching and internship opportunities for band students. He also conducts the Lawrence City Band.
Foster says he's enjoyed all of his duties at KU.
"I'm weird in that way," he says. "That's a little unusual, I suspect. As a player, I enjoyed all types of music."
'Deserving honor'
An oil panting of Foster, along with a plaque describing his accomplishments, soon will hang at the Hall of Fame at Troy State.
The conductor shrine opened in 1979, and its members include Herbert L. Clarke, the famous cornet soloist with the John Philip Sousa Band; Merle Evans, former conductor of the Ringling Brothers Barnum & Bailey Band; and Col. Arnald Gabriel, former conductor of the U.S. Air Force Band.
Saturday's ceremony for Foster will include a speech by William Gora, director of bands at Appalachian State University, who nominated Foster.
"It's a very, very high honor, and it's certainly a deserving honor," says Long, the Hall of Fame chairman. "I think he's in a class of his own. Sometimes I wonder if people at the University of Kansas realize they have one of the top band directors in the world."
Foster calls the induction "an incredible honor." But he says his real accomplishment has been helping students through the years.
"When it's all said and done, if you don't help young people, you haven't succeeded," he says. "It doesn't matter how good a conductor you were, or how good a composer you were, or how popular you were."
Career Timeline
1971- Comes to Kansas University as director of bands.
1972- Starts the KU jazz band program.
1980- Receives the Citation of Excellence from the National Band Assn.
Named one of the top 10 music educators by The School Musician magazine.
1983- Conducts American Musical Ambassadors tour of Europe.
1984- Named outstanding band director by the Kansas Bandmasters Assn. and Phi Beta Mu.
1989- Marching Jayhawks receive Sudler Trophy, the top honor for college marching bands.
1997- Gala concert honors 25th anniversary of Foster's time at KU.
2000- Presented Distinguished to Music Medal by Kappa Kappa Psi national band organization.
2000- Stopped conducting KU marching band.
2002- Retired as KU band director but remains on music faculty.
Copyright 2018 The Lawrence Journal-World. All rights reserved. This material may not be published, broadcast, rewritten or redistributed. We strive to uphold our values for every story published.