A Prairie Park School kindergarten student died Monday morning after being hit by a minivan while riding his foot-powered scooter to school.
Bryce K. Olsen, 6, died about 11:40 a.m. near the intersection of Harper Street and East 25th Terrace in southeast Lawrence. Police said the accident happened just after the minivan's driver, city sanitation worker Peter Matthias Kwesi Afful, 45, stopped at the stop sign on southbound Harper Street and made a right turn.
"He never saw the child," said Sgt. Dan Ward, a Lawrence Police spokesman.
LPD spokeswoman Kim Murphree said it would take some time before a detailed accident report was finished. Afful, who was off-duty at the time of the wreck, had not been charged with any traffic infractions as of Monday evening, and Murphree said there were no indications alcohol or drugs were a factor.
Olsen died just across the street from where he lived: a Habitat for Humanity home where he had moved just before Christmas with his parents and two older brothers.
"Everybody's just stunned," said Jean Lilley, executive director of Lawrence Habitat for Humanity, who stopped by the Olsens' home Monday to talk with the family. "It's just been a roller-coaster ride for them. They had this high with moving into this brand new home, and now they're hitting the lowest of lows."
In a 2004 interview about his application for a Habitat for Humanity home, Bryce's father, Bret, said his children were his "whole life."
Photo Gallery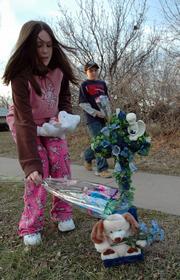 Bryce E. Olsen
"What really gets me through life is my children," he said.
Bret Olsen, who is disabled from an on-the-job injury, said he and his wife had struggled with the city's costly housing market but were determined to live in Lawrence because of the school system.
"Everybody's views are different about why they're here," he said. "Mine is my children."
Bryce had been on his way to afternoon kindergarten classes at Prairie Park School. Employees there first determined something was wrong when they took attendance and noticed Bryce was missing, Principal David Williams said.
"He was a great little kid - very energetic, very adventurous," Williams said. "Just a sweet little guy."
Williams said he saw Bryce ride home on his scooter every day after school with his two older brothers, a second-grader and a fifth-grader.
Some of the Olsens' neighbors expressed concern Monday about the speed and volume of traffic near the intersection. Lilley said she had noticed the traffic in the area and had warned the Olsens about it.
"That was a concern," she said. "We did speak with the family to let them know it's not as sheltered as the trailer park (where the family previously lived), where they expect kids to be going out in the street."
A school district crisis team spent the afternoon at Prairie Park School, helping counsel staff members and students about how to deal with the loss. The school also sent home a note with children and gave families a list of tips for how to deal with grief.
Bryce's family members were not yet willing to speak about the situation on Monday, said their pastor, Bishop Doug Von Feldt of the Church of Jesus Christ of Latter-day Saints. A church spokesman said the family planned to release a statement today.
Copyright 2018 The Lawrence Journal-World. All rights reserved. This material may not be published, broadcast, rewritten or redistributed. We strive to uphold our values for every story published.