The seemingly endless pastures of Kansas may seem subtle - if not monotonous - to motorists passing through on I-70. But local photographers Mark Feiden and Edward C. Robison III know the state is full of wonder and beauty, with patches of woodlands, desert and prairie.
The rich tapestry changes dramatically from one season to the next in an endless play of light and color. They share their artistic view of their homeland in "The Kansas Landscape," an exhibition of more than 40 photos on view through March 25 at Signs of Life Gallery, 722 Mass.
Wichita native Feiden is a sixth-generation Kansan with pioneer roots in Wabaunsee and Reno counties. When he was in college, the Kansas University graduate discovered the state's back roads as an alternative to the turnpike. Feiden is co-founder of The Konza Press, which promotes the people, places and history of Kansas through publishing the work of native artists and photographers.
Photo Gallery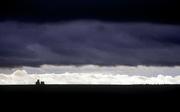 The Kansas landscape
Not long after graduating from the Kansas City Art Institute and moving to Colorado to photograph the state's exciting scenery, he realized he got more personal satisfaction from documenting the quiet beauty of the Sunflower State. Robison, who lives in rural Baldwin, tries to draw out the spirit of the land in his work.
A book filled with prints by the artists accompanies the Signs of Life exhibition. Feiden and Robison will give a gallery talk at 5 p.m. March 11, followed by a book signing.
Copyright 2018 The Lawrence Journal-World. All rights reserved. This material may not be published, broadcast, rewritten or redistributed. We strive to uphold our values for every story published.