Topeka — At least for a few moments Saturday, Kansas Republican officials appeared unified after adopting a party platform that supports overturning abortion rights and banning embryonic stem cell research.
State Republican Party Chairman Tim Shallenburger also got a resounding vote of confidence and cheers as he called for unity.
"Whatever side you want to be on in the primaries, when the primaries are over : we stand behind our candidates," Shallenburger said after a sometimes feisty 2 1/2-hour GOP state committee meeting.
But warfare between the so-called moderate and conservative wings continued to plague Kansas' most dominant political party.
As the meeting ended, conservative Doug Patterson, who is chairman of the Johnson County Republican Party, confronted Andy Wollen, chairman of the Kansas Traditional Republican Majority, a group of moderates.
Patterson challenged Wollen to put on a sticker that read "Loyalty." Wollen declined.
"Are you refusing to put that on?" Patterson asked.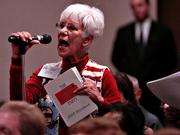 "I am refusing to take that from you. I am not loyal to you," Wollen said, noting that Patterson has posted critical comments about Wollen on the county party's Web site.
"Every word of that is true," Patterson said.
Room for diversity
The new state party platform fulfilled many wishes of conservatives.
The platform supports overturning Roe v. Wade, the landmark U.S. Supreme Court decision that legalized abortion.
It also seeks a ban of embryonic stem cell research. The platform also invites criticism of evolution in science classes and declares that marriage can only be between one man and one woman.
Wollen said the platform represented "extreme positions."
"Zero support for embryonic stem cell research is excluding 200,000 Kansans who can benefit from cures of diseases," that could be made through such research, he said.
But State Insurance Commissioner Sandy Praeger of Lawrence, also a moderate, said she could accept the platform because in the preamble it allows for differing views.
"As long as there is the statement that says we respect diversity and that we can agree to disagree," Praeger said. "This 'big tent' discussion today was very healthy, and I was happy to see it."
House Speaker Doug Mays, R-Topeka, successfully added language to the state GOP preamble from the party's national platform that said, "This diversity is a source of strength, not a sign of weakness, and so we welcome into our ranks all who may hold differing positions."
Attempts to water down or omit the "big tent" language promoting unity were rejected.
Much of the early fighting was about party operations.
Conservatives won a proposal that will require a new party platform be written every two years, with Atty. Gen. Phill Kline being one of the key votes to get the measure passed.
But they lost a measure that would have allowed changing the party's national committee representatives in the middle of their terms.
Conservatives sought to increase the size of district committees from 27 members to 98 members, saying more grassroots Republicans needed to be included. The state committee approved increasing the number to 37.
The committee also adopted a party constitutional amendment that keeps the Republican Party primaries closed to only registered Republican voters.
Conservative Dwight Sutherland of Olathe, a former national committeeman, said he believed Republicans were united.
"Sane conservatism prevailed. The very divisive sort of antagonistic impulses were squelched," he said. "I don't think there's anything in the platform that will come back to haunt us."
Focused on victory
Party Chairman Shallenburger has long been considered a conservative, but he recently had been under attack from anti-abortion advocates because he has supported Republican Party members who believe in a woman's right to an abortion.
He said he was pleased with Saturday's results.
"We're focused on winning elections and not beating each other up," he said.
He said the party's main goal is to oust Gov. Kathleen Sebelius, a Democrat who defeated him in 2002, in part by winning the support of some moderate Republicans.
"We should not have elected the last governor," Shallenburger said. "We should not have lost that election. But the Republicans for Sebelius and the Republicans who put her into office - we can remedy that problem this year. I pledge to do everything I can," he said.
Copyright 2018 The Lawrence Journal-World. All rights reserved. This material may not be published, broadcast, rewritten or redistributed. We strive to uphold our values for every story published.