For Colby Wissel, a second-place finish never sounded so good.
Competing in Saturday's Jayhawk Invitational at Anschutz Pavilion, he had the daunting task of racing against former KU standout and Olympian Charlie Gruber in the one-mile run.
So, even when the Kansas University sophomore sprinted across the finish line with a personal-best time of 4:08, and it wasn't good enough to better Gruber's pace of 4:02, he was more than pleased.
After all, he finished ahead of every runner who wasn't running for Team Nike.
"Honestly, for the mile, this was by far my best race at KU," Wissel said. "It was a breakout race for me."
Normally, Wissel runs in longer events such as the 3,000-meter indoor run and the 5,000-meter outdoor run. But Saturday, he thought running the mile would help him prepare for the longer distances he will face during the conference season.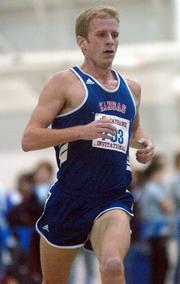 Kansas track and field coach Stanley Redwine said he was proud of Wissel's performance.
"The thing is, he beat his record by two seconds. I'm more impressed with that than anything," Redwine said. "I think there's room for improvement there, too. When he has to peak, I think he can do even better."
Kansas' success in mile didn't end with Wissel's flirtation with the four-minute pace, though.
The Jayhawks dominated the race, as two other KU runners set personal-best times of their own.
Sophomore Paul Hefferon came in third with a time of 4:11, and senior Erik Sloan was fourth after posting a time of 4:12.
Redwine said Kansas dominated the event because assistant coach Doug Clark had been doing a good job preparing his runners.
"I think it's an honor to how he's training those guys," Redwine said. "You can even call it a 1-2-3-4 finish, because Gruber is still here in training."
Copyright 2018 The Lawrence Journal-World. All rights reserved. This material may not be published, broadcast, rewritten or redistributed. We strive to uphold our values for every story published.