College Station, Texas — Freshman Courtney Paris scored 18, and Chelsi Welch and Britney Brown each added 16, leading No. 13 Oklahoma past Texas A&M;, 81-72, on Saturday.
Oklahoma (17-4 overall, 7-0 Big 12 Conference) used an 8-2 run early in the second half to break a 38-all tie and take a lead that the team wouldn't relinquish.
Paris, the Big 12's leading scorer, also had 14 rebounds, five assists and two blocks.
Texas A&M; (16-5, 5-3) was led by A'Quonesia Franklin, who had 20 points and 10 assists, and Takia Starks with 19 points.
Paris, a 6-foot-4 center who averages more than 21 points and almost 15 rebounds a game, continued to dominate Saturday. She helped Oklahoma overcome an early 5-2 deficit by making six straight points.
Texas 60, Oklahoma State 46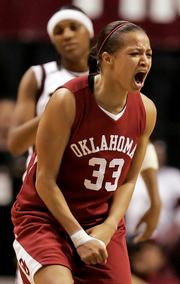 Austin, Texas - Erica Arriaran scored 14, and Ashley Lindsey grabbed 11 rebounds to lead Texas (11-7, 5-3).
The victory was number 880 for Texas coach Jody Conradt, moving her into second in all-time coaching victories past North Carolina's Dean Smith (879). Tennessee's Pat Summit is the all-time leader with 900 coaching wins.
Brisa Silva led all scorers with 17 points for Oklahoma State (6-13, 0-8).
Missouri 65, Texas Tech 51
Columbia, Mo. - Christelle N'Garsanet scored 19 and grabbed 11 rebounds for Missouri (15-4, 5-2), which won its 11th straight home game. LaToya Davis led Texas Tech (9-9, 4-3) with 19 points.
Copyright 2018 The Associated Press. All rights reserved. This material may not be published, broadcast, rewritten or redistributed. We strive to uphold our values for every story published.