Baghdad, Iraq — Kidnappers holding four Christian peace activists gave U.S. and Iraqi authorities a "last chance" to release all detainees in Iraq, threatening to kill the hostages if their demands were not met in a videotape broadcast Saturday.
At least 22 people were killed in scattered violence across the country, including a U.S. soldier in a roadside bombing in Baghdad and 10 Iraqis in a bombing at a candy store in a mostly Shiite town south of the capital.
The hostages - two Canadians, an American and a Briton - were shown on the tape broadcast by Al-Jazeera looking gaunt and standing near a white wall in what appeared to be a house, then it cuts away to another shot in which they were seated and talking, but their voices were not heard.
'Fate will be death'
The pan-Arab station's announcer said the group, the "Swords of Righteousness Brigades," issued a statement warning it was the "last chance" for U.S. and Iraqi authorities to "release all Iraqi prisoners in return of freeing the hostages."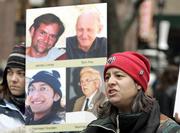 "Otherwise, their fate will be death," the statement added, without mentioning a deadline.
The broadcast of the Jan. 21-dated video capped a week in which two German engineers were abducted in the northern industrial city of Beiji, and the U.S. military released five Iraqi women who had been in military custody - a move demanded by the kidnappers of American reporter Jill Carroll to spare her life. The military said the prisoner release was routine and not in response to the ultimatum.
Sunni Arab leader critical
A Sunni Arab political leader, meanwhile, criticized Friday's police crackdowns on Sunni neighborhoods in southern Baghdad, which saw about 60 people detained and three killed, apparently by insurgents.
Iraq war deaths
As of Saturday, at least 2,240 members of the U.S. military have died since the beginning of the Iraq war in March 2003, according to an Associated Press count. The figure includes six military civilians. At least 1,754 died as a result of hostile action, according to the military's numbers.
The AP count is one lower than the Defense Department's tally, last updated Friday at 9 a.m. CDT.
The British military has reported 98 deaths; Italy, 27; Ukraine, 18; Poland, 17; Bulgaria, 13; Spain, 11; Slovakia, three; Denmark, El Salvador, Estonia, Netherlands, Thailand, two each; Hungary, Kazakhstan, Latvia, one each.
"We condemn the treacherous and terrorist acts that have targeted and killed dozens of innocent people who were only guilty of rejecting the (U.S.-led) occupation," Khalaf al-Ilyan said at a news conference. "Any government should defend its people, otherwise, why it should be called a government?"
Sunni Arabs, dominant under Saddam Hussein before his ouster, are the insurgency's driving force. The U.S. wants them brought into the political process to blunt the violence.
But many have accused Shiite-led security forces of torture and the indiscriminate detention of Sunnis, raising sectarian tensions and complicating negotiations to bring Sunnis into the new government.
The bound and gagged bodies of two men in their 40s who had been shot in the head were found in southern Baghdad's Rustamiyah sewage plant about three miles south of Baghdad, police said.
Al-Ilyan said the Rustamiyah plant had "become the place where families go to search for the bodies of their sons killed by the government forces or militias."
Police find bodies
Police also found the buried bodies of six laborers who had been bound, gagged and shot in the head near the southern city of Karbala, spokesman Rahman Mashawi said.
The U.S. soldier was killed in central Baghdad, the U.S. military said. A Marine also was killed Friday in a non-hostile vehicle accident in Fallujah, the military said.
At least 2,240 members of the U.S. military have died since the Iraq war started in March 2003, according to an Associated Press count.
Gunmen in central Baghdad also shot to death prominent professor and political analyst Abdul-Razzaq al-Naas, a Shiite who often appeared on Arab TV talk shows to discuss Iraqi politics, police said.
During a recent appearance on a panel show, al-Naas spoke out strongly against the government's failure to improve security and the economy.
At least seven other people were killed in separate shootings across Baghdad, police said.
Copyright 2018 The Associated Press. All rights reserved. This material may not be published, broadcast, rewritten or redistributed. We strive to uphold our values for every story published.