On a day when C.J. and Sasha Scissorhands had trouble catching the ball, Kansas University coach Bill Self gave the majority of the inside minutes to Darnell Jackson and Julian Wright.
It's going to be that way with the post players, their minutes fluctuating depending on matchups and performances. And that's just fine, because it's becoming increasingly evident KU has a trio of perimeter players nobody's going to enjoy playing against.
Russell Robinson, Brandon Rush and Mario Chalmers have different styles but share a few traits, which has them playing together these days as if they've been together for years.
All three love to play in transition and have the skills to do it, consistently attack the basket and have developed confidence in their jump shots, and, in the case of Chalmers and Robinson, they thrive on attacking the ball in mid-air on a pass or in mid-dribble.
Photo Gallery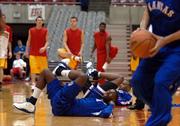 KU vs. Iowa State
Iowa State, armed with terrific guards Will Blalock and Curtis Stinson, doesn't get outplayed in the backcourt often. The Cyclones did Saturday in Hilton Coliseum, where 14,092 fans watched KU run its way to a 95-85 victory.
"Mario, Brandon and Russell all played very, very well," Self said. "When they play well, they're about as good as any guards around, in my opinion."
Chalmers (21 points, five assists, six steals, six turnovers) and Robinson (18 points, four assists) barely resemble the players who struggled in early season losses to Arizona and Nevada. They no longer are wondering what they're supposed to be doing. They're doing it and doing it with a ton of conviction.
Rush (20 points, 10 rebounds) is far more assertive than he was then and is creating easy shots for himself.
"We were just talking about that in the locker room, about how league play is different, and we're stepping up," Rush said.
KU has won 10 of its last 12, and the fact that both losses were against rivals in games KU played poorly at the end has tended to overshadow just how much this team has improved.
Jackson's emergence has helped, and Wright appears to be at the beginning stages of a huge leap, but the driving force behind the growth has been the Run RRC trio of Robinson, Rush and Chalmers.
They are averaging 47.2 of the team's 81.7 points per game in league play. Saturday, they made 19 of 29 field goals, seven of 11 three-pointers and 14 of 17 free throws. Nice numbers anywhere. Exceptional for young players on the road.
"We just ignored the crowd and played hard," Chalmers said. "Missouri really helped us out as far as ignoring the crowd."
And they did it with 7 a.m. wake-up calls because of the early starting time.
Gotta love the early alarm clock, right Brandon?
"Nah, I hate it," Rush said. "I was still kind of sleeping in the first half. I woke up, though, when they broke into our lead in the first half."
"Wake up!" remains Self's No. 1 command from courtside. He's not saying it as often.
"We're still playing better physically than we are mentally," Self said.
True. For example, Chalmers sometimes throws passes to Sasha Kaun that are better suited for Rush and Wright, but the growing pains are less painful all the time.
Copyright 2018 The Lawrence Journal-World. All rights reserved. This material may not be published, broadcast, rewritten or redistributed. We strive to uphold our values for every story published.