Lubbock, Texas — Jarrius Jackson said he got the ball, found a little opening and just took the shot.
His clutch three-pointer with 2.4 seconds left Saturday tied the game at 79 and sent Texas Tech to overtime with Oklahoma State. The Red Raiders eventually won, 92-90.
"Luckily, it fell for me," said Jackson, who finished with 26 points.
Cowboys head coach designate Sean Sutton said Jamaal Brown was told to foul Jackson so a three-pointer couldn't tie it. Brown tried, "but probably didn't make it obvious enough" for the officials.
"It's a tough way to lose a basketball game," Sutton said. "When you have a three-point lead, and there's under two seconds to go, you foul."
Texas Tech has struggled this season, but the Red Raiders displayed grit Saturday.
"It shows that we can play in a tight game, instead of getting buried," Tech head coach designate Pat Knight said. "But we still need to be able to win on the road."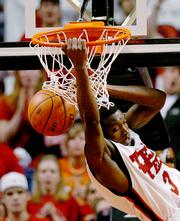 Tech, which snapped a two-game loss streak, never trailed in the overtime, with John Plefka getting six of Tech's 13 points.
Tech (11-9 overall, 3-3 Big 12 Conference) had five players in double figures. Martin Zeno scored 20, and Dior Lowhorn got 10 and led Tech with seven rebounds.
Mario Boggan scored 22 points and had 10 rebounds for Oklahoma State (12-8, 2-4).
Cowboy head coach Eddie Sutton and Tech coach Bob Knight played their 2,306th combined game Saturday. The victory gave Knight his 865th career win, leaving him 15 shy of topping Dean Smith's 879 all-time victory mark.
Nebraska 65, Missouri 52
Lincoln, Neb. - Nebraska's Jamel White couldn't have picked a better time to have a breakout game - the Cornhuskers just had lost three straight Big 12 games by double-digit margins, and starting guard Joe McCray was suspended indefinitely Friday by coach Barry Collier.
Enter White, who scored a career-high 28.
"I'm so happy for Jamel and for the team," said Jason Dourisseau, who gave White a hug after the game. "He knew he was going to get some opportunities and he made the most of them."
Nebraska (13-6, 3-3) outscored Missouri (10-8, 3-4) 24-11 in the final nine minutes.
With the game tied at 41 with 9:20 remaining, Nebraska scored eight straight. But Missouri closed within six on Jason Horton's three-pointer with 3:52 left.
White answered with a long three, then hit another jumper to put Nebraska up, 57-46, with 2:04 left. Nebraska hit six of eight free throws in the last 94 seconds to seal the victory.
Colorado 79, Kansas State 75
Boulder, Colo. - Chris Copeland had 14 of his 17 points in the second half, and Richard Roby had 18, helping Colorado win its fifth straight conference game.
Copeland, who had only 11 points in his previous two games, was 5-for-10 shooting in the second half. Roby was held in check most of the game before finishing 7-for-12 for Colorado (15-3, 5-2).
Colorado point guard Marcus Hall collapsed, suffering from lower back spasms with 2:02 left in the game. He was carried off the court on a stretcher for precautionary measures.
Cartier Martin led Kansas State (12-5, 3-3) with 24 points. Lance Harris had 23 for the Wildcats, who had their three-game conference winning streak snapped.
Texas A&M; 72, Baylor 70
College Station, Texas - Texas A&M; big man Joseph Jones scored 29 and grabbed 10 rebounds as the Aggies (13-5, 3-4) struggled to stay on top after leading by as many as 12 points in the second half. The Aggies barely outlasted the Bears after Aaron Bruce made three three-pointers in the last 1:30, including one at the buzzer. Baylor (0-6, 0-6) got 18 points apiece from Curtis Jerrells, Henry Dugat and Bruce.
Copyright 2018 The Associated Press. All rights reserved. This material may not be published, broadcast, rewritten or redistributed. We strive to uphold our values for every story published.