The art of kung fu poses fundamental questions: What makes one weak? What makes one strong?
Steve Carrier knows about strength and weakness. He has been without the use of his legs all his life. Time after time, people have thought they could take advantage of him because of it.
But now, in the corner of a room at Independence Inc., 2001 Haskell Ave., the martial arts instructor clutches Kara Laing's arm with all of the art's deftness and balance behind him.
He grabs and twists, his nails scraping Laing's flesh. He sits in his black wheelchair. She stands in pain before him. He has taught her the fundamental questions' answer.
"People see me in my wheelchair, and for some reason they think that I'm a victim," Carrier said.
The lesson he imparted to Laing he hopes to share with all his students here. Like Carrier and Laing, they are disabled in some way, living in a world where some look upon them as prey, easy targets.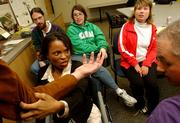 Kung fu - the shift in balance between weak and strong - will give his students the strength they need, Carrier hopes, to defend themselves.
The self-defense classes marked their one-year anniversary this month. Since their inception, Laing, Becky Saathoff, Bill Barker and the group's other seven members have learned how to defend themselves.
Saathoff and the others know what their instructor knows. Carrier is a fifth-degree black belt who has trained for more than a decade. When he speaks, Saathoff repeats.
At the start of a recent session, Carrier reminded his students why self-defense is more than a set of techniques. It also is an attitude.
Attackers look for people who appear to be victims.
"Why go for someone who's healthy and strong," he asks his class, "when you could go for someone weak and vulnerable?"
The idea, Carrier says, is to be mentally sharper than the person attacking you. Don't be a victim, even if your physical state makes you appear as one. Be strong mentally.
He lifts his forearm and shows it to the class. Three deep gouges mark the skin below his wrist.
Laing has named her hands Charlie and Wilma. Charlie isn't very strong and is hard to control. Wilma is the good one, she says.
Now, she's trying to grasp Carrier's arm as he grips her throat. She needs both Charlie and Wilma, but she's struggling.
"Do it to where you get some pain in there," Carrier tells her.
She slides her hands up his forearm, searching for a grip. "Come on, Charlie," she yells.
Slowly, Carrier tells her. Use your fingernails, he says. Let them dig in.
She drags her hand down his skin, leaving long white scratches.
"You do not have to be physically strong," he shows the class. "They are giving in."
He begins showing the other students. One by one, the students find their grip, pulling Carrier toward them, gaining strength, gaining balance and leverage over the situation.
The lesson, for today, has ended. The group members take their seats around the big square table, some smiling, some chatting.
And this is the point, Carrier says: After every class, they leave with their disabilities. But, with every class, they leave stronger.
Copyright 2018 The Lawrence Journal-World. All rights reserved. This material may not be published, broadcast, rewritten or redistributed. We strive to uphold our values for every story published.