Katowice, Poland — The snow-covered roof of a convention hall in southern Poland collapsed Saturday with as many as 500 people inside for a racing pigeon exhibition, killing at least 33 people and injuring at least 141.
No survivors had been found for more than six hours as rescue teams and dogs searched through predawn darkness and subfreezing temperatures. Katowice fire chief Kazimierz Krzowski said rescue efforts "in a way have come to an end, and we are bringing out corpses."
Krzowski said search teams had found 13 places where people were believed to be under the rubble and vowed to "work till the end" to complete the task of recovering them.
A priest outside the building prayed over the bodies of an adult and a child covered by a blanket and a tarp. In the hours after the collapse, witnesses said people beneath the wreckage were calling family or emergency services on their cell phones for help.
Krzysztof Mejer, a spokesman for the government of the Silesia region, said at least 33 people had died and 141 were injured.
Fire brigade chaplain Capt. Henryk Kuczob, a Roman Catholic priest, said he gave last rites to one of the injured, a 50-year-old man who later died.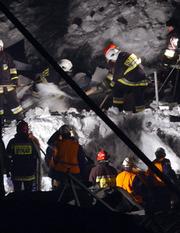 "A second man was taken to the hospital," Kuczob said. "His 13-year-old daughter is dead, but he doesn't know that yet. He's in shock."
Crumpled birdcages were scattered inside the building, and dozens of white and brown pigeons perched on the twisted rafters, their feathers fluffed against the cold.
The weight of snow likely caused the roof to cave in less than two hours before the event was scheduled to close for the day, Katowice fire brigade spokesman Jaroslaw Wojtasik said.
Hundreds of firefighters responded along with search-and-rescue teams with dogs and local miner rescue teams, Wojtasik said. Some 30 people gathered in a building next to the site awaiting news of their loved ones.
Temperatures dropped to 1 degree overnight.
Rescue workers pumped warm air into the ruin for those feared trapped inside, as crews dug into the wreckage with saws and other equipment, using flashlights and floodlights. The firefighters also used jacks to stabilize some of the building's beams as they attempted to get to those who were trapped.
Wojtasik estimated the effort could take another 40 hours.
Grzegorz Slyszyk, who said he was an attorney for building management, said the structure, built in 2000, could not have collapsed from the snow because excess snow was regularly cleared from the roof.
"The snow was last removed two weeks ago, and since then there hasn't been much snow," he said. "Definitely, it's too early to speculate on a cause."
Copyright 2018 The Associated Press. All rights reserved. This material may not be published, broadcast, rewritten or redistributed. We strive to uphold our values for every story published.