His drivers carry a few pizzas and not a lot of money.
That's the main reason Jeff Morris, manager of Pizza Shuttle, is concerned and puzzled about a type of violent crime that's been happening recently in the Lawrence area: the beating and robbing of pizza-delivery drivers.
"What really gets me is they're usually getting between 20 and 40 bucks for assault, battery, armed robbery. I just can't believe it's worth it," Morris said. "In the first 10, 12 years I worked here, we had probably seven robberies, and no one got hurt. In the past three years we've had five, and three of them were assaulted."
An emerging crime trend? Probably not, said Sgt. Dan Ward, Lawrence Police spokesman.
"In my 19 years here, we have worked pizza delivery-driver robberies," Ward said. "This is not a new crime."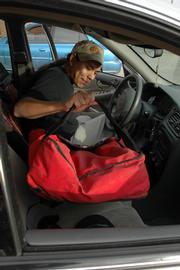 But through the years it has proven to be a persistent problem, especially for Morris, whose drivers have been disproportionately targeted by robbers in recent years.
A few years ago, his business, 1601 W. 23rd St., stopped taking delivery calls from pay phones, and he always instructs drivers to keep going if they arrive at a location and don't feel safe.
The phenomenon took a new twist in the past year when it was documented - some might say glorified - in a popular song by the hip-hop group Dead Prez. The song, "Hell Yeah (Pimp the System)," received occasional airplay in the past year on college stations such as KJHK 90.7 FM.
"Got two or three dollars to my name/and my homies in the same boat going through the same thing :
We're gonna order take-out when they send the driver/ all you do is stick your .25 up in his face. : We roll up quick and put the pistol to his nose."
Chris, a Pizza Shuttle driver who asked not to be identified by his full name, was surprised but not offended to learn of the song.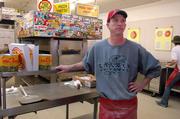 "That's incredible," he said. "It doesn't matter. It doesn't offend me that that song is out there if people are dumb enough to listen to it. : You can sing about anything you want."
Chris was delivering a pizza in daylight last month to an apartment in the 2500 block of Redbud Lane when he was attacked by two men and robbed of $38.
He said the only warning sign was that the person who answered the door wasn't friendly. After the customer took the pizzas, another person jumped out from behind the door, grabbed him and threw him to the ground. He was kicked and beaten.
The case remains under investigation.
"Worse things have happened to other people in this town. They're just stupid kids," he said. "To tell you the truth, I knew I probably wasn't going to get a tip anyway."
Recent pizza-delivery robberies
¢ December 2002: A Domino's Pizza driver is held up at gunpoint while delivering pizzas in the 4500 block of Overland Drive. ¢ September 2004: Three Lawrence men are arrested and charged with committing two robberies in one week by luring Pizza Shuttle drivers to vacant homes in southwest Lawrence. ¢ Jan. 13, 2005: A Tonganoxie pizza-delivery driver is robbed and beaten with a pipe shortly after 7 p.m. on his first day on the job. ¢ Dec. 13, 2005: A Pizza Shuttle driver is robbed, kicked and beaten in the 2500 block of Redbud Lane.
Copyright 2018 The Lawrence Journal-World. All rights reserved. This material may not be published, broadcast, rewritten or redistributed. We strive to uphold our values for every story published.