Beijing — The Chinese capital prepared to usher in the Lunar New Year with a bang Saturday, after authorities lifted a 12-year ban on fireworks.
As residents stocked up on fireworks, officials were urging caution, fearing the sharp rise in injuries and fires that accompanied the holiday before the ban.
About 4,000 firefighters were on standby, with 21 fire engines and 129 firefighters dispatched to the most densely populated areas, the Beijing Youth Daily newspaper reported.
The city's hot line for reporting fires told the newspaper it had expanded its team of four to 40 to cope with the expected flood of calls after midnight.
The new rules allow Beijing residents to explode fireworks all day on Jan. 28 and today - New Year's Eve and New Year's Day - and from 7 a.m. to midnight every day from Monday to Feb. 12.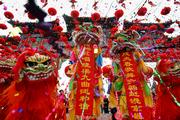 About 3,000 police and community officers will patrol off-limits areas such as schools, retirement homes and historic relics, the Beijing Daily newspaper said.
The thundering explosions of fireworks were expected to reach their peak just before and after the start of New Year's Day, as millions take part in a thousands-year-old tradition meant to drive away bad luck and scare off evil spirits.
But it seemed many residents couldn't wait, and by 6 p.m. Saturday the streets echoed with the sounds of firecrackers.
Beijing lifted the ban after a survey found that 70 percent of residents felt fireworks made the holiday more festive.
But not everyone was so keen on lifting the ban.
"It causes pollution and injuries and too many paper scraps, causing heavy work for cleaners," said the manager of a Beijing hotel, who gave his name only as Zhang.
Copyright 2018 The Associated Press. All rights reserved. This material may not be published, broadcast, rewritten or redistributed. We strive to uphold our values for every story published.