During his three-decade career at Lawrence High School, English teacher Art Sloan was known for his wit, his passion - and for the inspiration he provided students.
"In Art Sloan's class, it was OK to be smart," said Sarah Hill-Nelson, a 1988 LHS graduate. "It was cool to be really smart."
Sloan, 55, died Tuesday at his home. A service will be at 3 p.m. today at the Church of Jesus Christ of Latter-day Saints in Lawrence.
Some of his former students and colleagues this week shared memories of Sloan's exploits teaching in the classroom, coaching the Scholar's Bowl team or rooting for the school's activities.
Sloan taught 17 courses in English and the humanities at LHS for 33 years and retired in May 2005. He earned numerous teaching awards, as well as a reputation for wanting to teach the tough classes.
"Even after he retired, students still sought him out," said Steve Nilhas, LHS principal.
Hill-Nelson, who competed on the Scholar's Bowl team, said Sloan's classes were always popular. He managed to gain respect from his many students because of his enthusiasm, she said.
"He didn't ever make me feel like he had any doubts about what he was doing," she said.
Joanna Russell Voigt, a 1987 LHS graduate, took a world literature class from Sloan. The class read and discussed "War and Peace," a formidable novel for high school students.
"When people took the class, they knew it was going to be exciting," Voigt said. "His level of involvement really was stellar."
Edith Bogart, an English teacher at LHS from 1975 to 1993, called Sloan the heart of the department and remembered his daily interactions with students.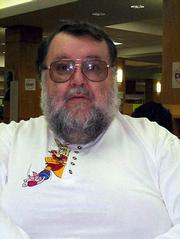 "They experienced Art," she said. "Art was an experience you had to have when you were a student."
Phil Bradley, a 1977 LHS graduate, said Sloan reached out to students who found high school uncomfortable.
"I think he helped them feel better about themselves and better about the situation," Bradley said.
Bradley never took a class from Sloan, but the two interacted during a school musical and conversed often in recent years about politics, the community and LHS.
"He was partisan and a huge fan of Lawrence High School," Bradley said.
The family will receive friends from 1:30 p.m. until the service today at the church.
Copyright 2018 The Lawrence Journal-World. All rights reserved. This material may not be published, broadcast, rewritten or redistributed. We strive to uphold our values for every story published.