Chicago — Ben Roethlisberger is making more than the Seattle Seahawks nervous. Big Ben is shaking up people all over the NFL - players, coaches, scouts, general managers, quarterbacks.
As he takes the Pittsburgh Steelers into the Super Bowl as the youngest quarterback since Miami's Dan Marino in 1984, Roethlisberger also is favored to become the only first-round draft choice since John Elway in 1998 to win one.
For a while there, New England's Tom Brady was beginning to convince everybody that just any sixth-round draft pick could do the job.
Seattle's Matt Hasselbeck, a sixth-round pick of the Green Bay Packers, hopes to succeed Brady as president of the sixth-round success club. That would make a lot of people more comfortable. It takes the pressure off teams when players like Brady and Hasselbeck emerge out of nowhere. It makes everybody think it's not so important to land a top quarterback with a top draft choice.
Brady established a trend St. Louis free agent Kurt Warner started in 1999. Since then, the only first-round quarterback even to appear in a Super Bowl with the team that drafted him was Philadelphia's Donovan McNabb last season. He lost to Brady.
In 2000, former first rounder Trent Dilfer beat former first rounder Kerry Collins, but neither was playing for his original team, having failed elsewhere. Neither lasted with their Super Bowl teams, either, Dilfer in Baltimore and Collins in New York, so they were considered not much different from any sixth-rounder who happened to be in the right place at the right time.
It should be noted Denver didn't draft Elway with its first pick either, but he forced a trade from Baltimore soon after the 1983 draft, similar to what Eli Manning did two years ago with San Diego and the New York Giants.
Now Giants general manager Ernie Accorsi, who also drafted Elway in Baltimore and didn't want to trade him, is being second-guessed in New York for spending so much to get Manning when he could have drafted Roethlisberger.
And what about the San Diego Chargers? They made the swap of Manning to New York because they could get Philip Rivers, who still hasn't played.
Meanwhile, Roethlisberger wasn't chosen until No. 11. Steelers' coach Bill Cowher was asked about it after beating Denver last week and said, "We were lucky." They sure were. The word at the time was the Steelers preferred Rivers over Roethlisberger, too.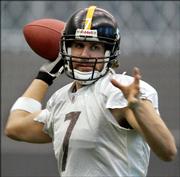 Every team that drafted in the top 10 will be holding its breath as Roethlisberger takes the spotlight next week. If he becomes the youngest quarterback to win a Super Bowl, do you think Oakland's Al Davis won't be wondering whether he could have found somebody else besides the second pick in the 2004 draft, Robert Gallery, to play offensive tackle and block for Roethlisberger?
The Arizona Cardinals took receiver Larry Fitzgerald third and they had Josh McCown playing quarterback.
Wouldn't Washington's Joe Gibbs have been happier with Roethlisberger at No. 5 than spitting safety Sean Taylor?
How about the Cleveland Browns, who took tight end Kellen Winslow at No. 6? Not only have they not had Winslow after back-to-back injuries, they only hope they have a quarterback.
The Detroit Lions took receiver Roy Williams No. 7 because they had spent a No. 3 on Joey Harrington in 2002. Hey Joey, that's young Ben playing on your home field next week.
The Atlanta Falcons took cornerback DeAngelo Hall No. 8 because they traded for Michael Vick in 2001, passing up a shot at running back LaDainian Tomlinson. Compared to Roethlisberger, Vick is old, not to mention struggling.
The Jacksonville Jaguars took receiver Reggie Williams No. 9 thinking they got their quarterback of the future in 2003, Byron Leftwich.
The Houston Texans took cornerback Dunta Robinson No. 10 because they started their franchise in 2002 with No. 1 pick David Carr.
All those quarterbacks are suddenly behind second-year man Roethlisberger now. The calendar for development has jumped ahead a year, two years, three years.
Offensive coordinators and quarterback coaches won't have time to watch the Super Bowl; they will be at their drawing boards trying to catch up.
Hasselbeck won't hear it, but he might have a bigger cheering section than he knows. If he wins with his eight years of experience after patient development, a lot of people will sleep easier, figuring time is on their side.
The Bears are in a similar position. Suddenly, Rex Grossman seems much older than he did two weeks ago. He still hasn't started as many games as Roethlisberger, but he has been around one year longer.
He had catching up to do before Roethlisberger arrived.
Now Big Ben is ready to push the clock ahead for everybody.
Copyright 2018 The Lawrence Journal-World. All rights reserved. This material may not be published, broadcast, rewritten or redistributed. We strive to uphold our values for every story published.