Elizabeth Rowley takes finger-painting to the extreme.
She's perfectly willing to get her hands into her artwork - even if it means suffering an occasional burn from a skillet or getting a little dirty.
"I'm not afraid of it," she says. "I'm a very physical painter."
Rowley's medium is en caustic painting, a relatively rare but striking art form that cakes beeswax, paint, fabric and glitter on canvas, board or paper to give three-dimensional effects to her work.
Her art is based on landscapes, with horizon lines and forms that allude to hills, trees and waterways. It often bridges the gap between abstract and literal art.
Rowley has lived in Lawrence for about a year and a half, but she's already developing a following at Fields Gallery, 712 Mass., where she exhibits her work. She'll be the gallery's featured artist tonight at the Downtown Friday Gallery Walk, which is from 7 p.m. to 9 p.m. at 11 galleries on or near Massachusetts Street.
"We get a lot of people asking what it is," Sheila Wilkins, the gallery's owner, says of Rowley's en caustic art. "I spend a lot of time educating people.
"I think people enjoy the color and the texture and the gesture and the mood, and the way she combines those elements. It refers to landscape, but it's not exactly."
Quick work
Rowley, a native of Wichita, started experimenting with en caustic by tipping over a burning candle and playing with the wax.
Soon, she developed a more formal process. She melts beeswax in a skillet, adds bold pigments and then spreads the mixture on her canvas using her hands, knives, kitchen utensils and brushes. The wax melts in a matter of seconds.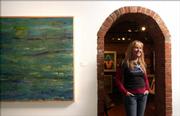 "You have to work very quickly," she says.
She spends time outdoors to get mental pictures of the scenes she wants to recreate in the studio.
Her art ranges from around copy-paper size to 4 by 5 feet. Some of her works explicitly represent landscapes; others are less literal.
"She kind of abstracts the landscapes," says Diane Post, education director at the Wichita Center for the Arts, where Rowley taught classes before moving to Lawrence. "They're typically spare and simple, with a bit of abstract. It's not something you'd say is strongly realized."
'Not precise'
The caked-on wax is "archival," Rowley says, meaning it will stand the test of time.
But it takes days to harden, which means she has time to tweak her works by rubbing out imperfections or even using a jewelry torch to melt the wax and re-work it.
Rowley works during the day as a teacher at Prairie Moon School, 1853 E. 1600 Road, which stresses household skills such as knitting and cooking.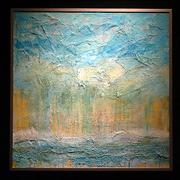 Rowley herself says she's constantly cooking, and she says she generally cooks the same way she makes art - without a recipe.
"I'm not precise," she says. "Jackson Pollock just threw things down. I work in a similar way. I'm not saying it's chance, but I'm not finicky."
Copyright 2018 The Lawrence Journal-World. All rights reserved. This material may not be published, broadcast, rewritten or redistributed. We strive to uphold our values for every story published.