Ed Shaw says his experiences with Medicare Part D can be summed up in one word.
"Hell," he said. "That's what it's been: eight weeks of hell."
Shaw is among thousands of older Kansans who are trying to cope with the federal government's new prescription drug program, which pushes Medicare recipients to align themselves with a private insurance plan with the promise of lower drug costs.
Here's what happened when the 79-year-old retired Kansas University biology professor tried to enroll himself and his wife in the program. Others in Lawrence and across the nation have described similar difficulties.
Shaw enrolled his wife, Cynthia, 70, in a prescription drug plan run by WellCare Health Plans Inc. He enrolled himself in a Humana plan.
"I've called WellCare five times and all I've ever gotten is B.S.," he said. "I called them December 14; they said they'd mailed an ID card. I called them December 26 to say I didn't get it; they said they'd call me back in two or three days. They didn't.
"I called them a week ago and really made a fuss," Shaw said. "They set up me with a conference call with them and Medicare. It turned out someone on their end had gotten the Social Security number wrong," he said. "It's always something different."
Afterward, a WellCare representative called with another problem. Cynthia, it appeared, was enrolled in two plans. She can only be in one.
"So I called Medicare," Shaw said. "They said she wasn't in any plan, much less two plans!"
Tuesday evening, someone with WellCare called to say everything had been taken care of. Shaw was encouraged to fill his prescriptions the next day.
"I just came back from (Round Corner Drug, 801 Mass.)," Shaw said Wednesday. "It didn't work."
Humana, he said, has been a little better.
"First, they sent me a letter, thanking me for joining Humana HMO," Shaw said. "So I had to tell them no, I wasn't in their HMO. I just wanted the prescription drug portion.
"And then, after we got that straightened out, they sent me a drug-formulary chart for Arizona with a list of all the pharmacies that would fill my prescriptions in Arizona."
The good news: Humana approved Shaw's prescription purchase, using the Arizona formulary.
"The whole thing is just a mess," Shaw said.
'A fiasco'
Shaw is hardly alone.
"As of this morning, I probably have 10 patients who still have problems. Their prescriptions won't go through," said Marvin Bredehoft, a pharmacist at Medical Arts Pharmacy, 346 Maine.
"I had one company tell me they would mail - not fax - a form to a patient's doctor's office. I said, 'How long will that take?' They said five days.
"This was for a patient who was standing right there!" Bredehoft said. "It's been very frustrating. All you can do is try to help in any way you can."
Frustrations over signing up for Medicare Part D aren't limited to Lawrence.
"It's been a fiasco," said Jack Tebow, pharmacist at Ray's Pharmacy in Quinter and president-elect of the Kansas Pharmacists Assn.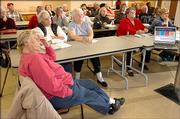 "People are being told to go online, even though they don't own a computer," Tebow said. "Then they're told to call an 800 number, and all they get is a machine. Then they come to me for help, but it's illegal for me to advise them. They call it 'steering.'"
Assistance available
But there is help. Douglas County Senior Services, 745 Vt., has been offering free Monday morning seminars on Medicare Part D since mid-November. One-on-one sessions are available by appointment.
"All we ask is that you come to one of the informational sessions before you make an appointment. It's not mandatory, but it's preferred because the session may tell you what you want to know," said Katie Glendening, a community service program assistant.
Glendening and other workers help senior citizens sort through the 41 prescription drug plans available in Kansas.
Each plan is designed to attract different groups of seniors, depending on their age, income, health, pharmacy participation and the drugs they're taking.
At Senior Services, Glendening guides seniors through a Medicare computer program, called "Plan Finder," that ranks which plans best meet their needs.
"We print out a list of the top three," Glendening said. "You can choose one and we'll help you enroll right then or you can take it home and do it yourself.
"We prefer that you take it home and do it yourself because we don't want it to look like we're telling you which one to choose," she said. "But if you want to enroll right then, it's OK."
It's become obvious, Glendening said, that many seniors do not have access to a computer or are uncomfortable entering their personal data.
"We understand," she said.
But once a senior - Shaw, for example - enrolls, they're on their own.
"They can call me and I'll do what I can," Glendening said, "but a lot of it's going to come down to them, their pharmacy and their plan."
Answers don't come easy.
"You're supposed to call these 800 numbers. You never talk to a human being; it's one machine after another," Shaw said.
Glendening noted that of the eight companies that offer Medicare Part D plans in Kansas, only one - Humana - has a representative stationed in Lawrence.
Glendening and Shaw agreed that for seniors hoping to speak with a live plan representative instead of a recording, 20-minute waits are commonplace.
Connecting with a live Medicare representative takes even longer. "An hour is not unusual," Glendening said.
Seniors have until May 15 to sign up for a plan. Those who don't will be subject to higher premiums when - or if - they do enroll.
"I've been telling my relatives to wait until April," said Dennis Grauer, an associate pharmacy professor at KU Medical Center. "A lot of these problems, I think, will be taken care of over time. This is a case of the feds trying to do too much all at once. Everybody wants the quick fix."
Grauer, who has a doctorate in pharmacy administration, warned that the enrollment problems soon may be overshadowed by availability problems.
"What the pharmacies are worried about is that some of the formularies are coming in at less than what they can buy the drug for," he said. "That cannot continue."
Eventually, he said, plans will be forced to adjust their premiums - neither of which is likely in the short-term - or "ratchet down" rates paid to pharmacies.
"When than happens, a lot of your independents are going to be forced out of business, especially out in the western half of the state," he said. "Then what do you do?"
Copyright 2018 The Lawrence Journal-World. All rights reserved. This material may not be published, broadcast, rewritten or redistributed. We strive to uphold our values for every story published.