When her hands aren't strumming a guitar, they're often pounding an opponent.
Aimee Mann has taken up boxing.
"It's kind of hard to find people to spar with," Mann says. "If I spar with a guy, it's a tricky thing. He's got to be good enough to know how to pull his punches. I'm not that great at defense.
"I've got a pretty good reach. But the only other advantage I have is if somebody has never sparred before, it's so freaky to put on headgear. It's just so claustrophobic and nerve-wracking to have somebody start throwing punches at you."
In some ways this hobby is nothing new. Mann has taken a lot of hits in her career.
The singer-songwriter first had to fight to free herself from the glossy image of her post-New Wave band 'Til Tuesday. Then she was tied up in court for years by a bankrupt record label that prevented her from releasing solo records.
But the 45-year-old musician has "gone the distance," earning both Grammy and Oscar nominations along the way.
Boxing proves a recurring theme on her latest album, "The Forgotten Arm." The title itself is a prizefighter's term for pinning an opponent on the ropes using outside jabs then bringing in the ignored inside arm for a match-ending uppercut.
"That's kind of a doofus technique that is best used on somebody who doesn't know what they're doing," she says.
She explains the title is an analogy for the fact the knock-out punch is usually the one you never see coming.
Open road
What audiences didn't see coming from Mann - who usually works in a standard pop framework - was a concept album. The songs on "The Forgotten Arm" tell the story of Vietnam vet and drug addict John and his Southern gal Caroline as they take a road trip across America.
The album itself (released on her own SuperEgo label) is designed as an illustrated pulp novella with her tunes as chapters. The stylish packaging is nominated for a Grammy.
"It's been so long since anybody's seen a concept album that I don't know if most people even remember it," Mann says. "But then it became so uncool that it's cool again - especially in the current climate of the single song-only download. The major labels are increasingly pushing one song at the expense of a record."
In addition to the boxing motif, Mann claims to be "peripherally inspired" by films.
"I always had road trip movies like 'Two-Lane Blacktop' (1971) in my mind. I don't even think I saw the whole thing - it was probably like 20 years ago that I saw half of it. It became almost like writing a score to an imaginary movie."
Photo Gallery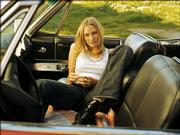 Aimee Mann
For the live road trip she will make to Lawrence this weekend, Mann is attempting an alternate musical approach. She'll perform an acoustic set with occasional backing from a bassist and keyboardist.
"There's something very satisfying about really stripping a tune down and letting the song stand on its own," she says. "It's sort of a sink or swim thing."
Everything's different now
It's been 20 years since the Mann-fronted 'Til Tuesday became a mainstay in pop culture, winning MTV's best new artist award in 1985. (Mann's husband Michael Penn earned the honor five years later.)
Now the Boston band's signature hit, "Voices Carry," can be heard in dentist's offices and classic rock stations.
What's it like for Mann to listen that song now?
"It seems like somebody else," she replies. "I think I write in a pretty different way now. First of all, I wrote that song on bass. It was practically the first song I had written on my own. It was in the top three. Lyrically, it's a little obvious. I don't think the way I sang was very good."
Mann believes her entire singing style has evolved since that spiky-haired era. In certain ways, technology is responsible.
"When I made the first 'Til Tuesday record, I had played a lot of live shows but never with monitors where I could hear myself," she recalls. "So my singing style was kind of half shout/half sing loud enough so that I could hear what I was doing - which is really bizarre when you think about it. You think that hearing what you were doing would be one of the first elements you need in the performance of music. It's kind of like having all your first paintings be where you're blindfolded."
Extra Q&A;
Q: "Magnolia" director Paul Thomas Anderson said that he was so inspired by your songs that he wrote a movie around them. Do you ever find yourself inspired by other media enough to write a song?
A: "Yeah. There's definitely been some. There was a song I wrote called 'Ghost World' that was inspired by the graphic novel before the movie came out. ... It was a great movie, but the graphic novel was amazing."
Q: How separate do you like keeping your musical career from that of your husband's career?
A: "It's pretty separate I have to say. He does his thing. Because he has a studio in his office, every now and then I'll ask him to help me record something. But unless there's a song that one of us is working on that we need advice on -- that happens every now and then."
Q: You've played a nihilist onscreen in "The Big Lebowski." Do you ever finding yourself taking a nihilistic approach to music or the music industry?
A: "I don't think I know exactly what the nihilist approach is. But certainly it's hard to look at the music industry with a lot of hope and optimism. It's really falling apart. Record sales are down 40 percent. So as an indie it's getting harder and harder to make music."
Copyright 2018 The Lawrence Journal-World. All rights reserved. This material may not be published, broadcast, rewritten or redistributed. We strive to uphold our values for every story published.