"Hi Dad," Julie said, passing by the couch. My daughter had just arrived from the dorm, carrying a load of laundry.
I grunted a hello, but didn't take my eyes off the TV.
Steelers quarterback Ben Roethlisberger had just taken the ball on third and goal. He swept to the left, then dove over the goal line, Superman-style.
It was the final touchdown of the AFC Championship game, sending Pittsburgh over Denver into Super Bowl XL.
After the game, a commercial came on, urging me to get a High Definition TV in time to watch the Feb. 5 Super Bowl.
I munched on some chips as I mulled it over, watching my 27-inch analog TV.
Getting the signal
First I wanted to make sure an HD signal would be available through my cable provider.
I checked with Patrick Knorr, general manager of Sunflower Broadband, which provides cable TV in the Lawrence area. (Sunflower Broadband is owned by The World Company, which also owns the Journal-World and World Online.)
Knorr eased my fears.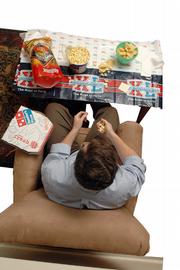 KMBC-TV, the ABC affiliate in Kansas City, Mo., will broadcast Super Bowl XL in HD. It will be available on Sunflower's cable digital channel 200.
But Knorr advised me to be sure to get the right equipment.
Many people get an HDTV set, see the HDTV logo in the corner of the show and think they're watching HDTV, he said.
"If you do not have the correct tuner or set top box, you are not watching HDTV," he said. "If you are truly watching football in HD, you should be able to clearly tell the color of a player's eyes and see each blade of grass on a close up."
Getting Super TV
Knorr schooled me on how to get HD locally through cable.
First you need an HDTV-capable television set or digital display. Then you need either an HDTV set top provided by Sunflower Broadband or a "Cable Card"-compatible HDTV with a built-in QAM tuner with a Cable Card provided by Sunflower Broadband.
David Nigro, audio/video consultant for Kief's Audio Video, Lawrence
Jason Hormann, home theater sales consultant for Best Buy in Lawrence
Only the set top/cable card and basic cable are needed to receive five network HDTV feeds from Sunflower Broadband, he said.
"We have a separate tier of eight additional cable HDTV channels sold separately for the true HDTV fans," he said. "Be sure to get HDTV service a few days prior to make sure the picture looks good and no adjustments are needed to the cable wiring in your home."
Knorr also told me how to get the game locally in an over-the-air broadcast.
"First you need an HDTV-capable television set or digital display. Then you need either a built-in, or external 8VSB digital tuner and a digital antenna," he said. "Be sure to check the signal for KMBC and the picture quality several days prior to the game at the same time as the game."
Reception will vary geographically and, in some cases, by time of day and atmospheric conditions (such as rain). If your reception is borderline, the picture likely will be unwatchable due to the "on" or "off" nature of digital transmission, he said.
Entry-level cost
I decided if I was to get an HDTV, it would probably be a 42-inch, entry-level model.
David Nigro, an audio/video consultant at Kief's Audio/Video in Lawrence, told me I'd have to consider spending about $2,000 for an all-in-one big-screen HDTV.
He said a popular model he sells in that price range, with a built-in tuner, is the Sony Grand Vega, an LCD rear-projection model.
I also talked to Jason Hormann, a home theater sales consultant at Best Buy in Lawrence.
Hormann recommended going with a plasma TV, which he liked because you don't ever have to replace a bulb, like you do on projection models.
Hormann said Best Buy carried a entry-level 42-inch Panasonic model with a built-in HDTV tuner for about $2,899.
Changing channels
The Seahawks had just beaten the Carolina Panthers to win the NFC Championship and the right to go to Super Bowl XL.
As I watched the Seattle celebration, Julie came upstairs.
"Dad, the dryer's making noises."
I put down the chips and went to check it out.
All I could get out of the dryer was some groaning and an electrical burning odor. It sounded and smelled expensive.
"I think we need a new dryer," my wife said.
It didn't seem like the appropriate time to mention I thought we needed a new HDTV.
I went back upstairs and continued watching the Seattle celebration on my 27-inch analog TV.
I wonder if anyone makes an HDTV/dryer?
Copyright 2018 The Lawrence Journal-World. All rights reserved. This material may not be published, broadcast, rewritten or redistributed. We strive to uphold our values for every story published.