Sunflower Kids Wrestling had another great weekend, competing in both the Tulsa Nationals and Manhattan tournaments.
Hunter Haralson fell one point short of a national championship on Saturday night, losing 1-0 in the Tulsa Nationals Finals. The Cliff Keen Tulsa Nationals is considered one of the most competitive national folkstyle tournaments in the country, drawing nearly 2,000 entries from approximately 40 states. Haralson toppled both the second and third seeds to make it to the championship round.
Haralson had a great match to start against second seed Cullen Hood from Paola, where he came out on top 1-0. Haralson pinned his second opponent before winning the next two matches against opponents from New Jersey and California. Haralson went to the finals wrestling the number four seed Jack Bass from Virginia. Haralson lost in the final seconds of the 3rd period because of a penalty point. This is Haralson's second time placing in a Cliff Keen National Tournament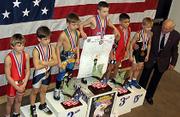 Also competing and winning matches in Tulsa were Reece Conklin and Nick Pursel.
Sunflower entered 10 wrestlers in the Manhattan Little Apple Classic, finishing with three Champions, two Runners Up, and a fourth place. Winning championships for the club were Josh Hanson, Levi Flohrschutz and Lucas Ingraham. Koty Russell and Jack Strange finished second, and Trevor Rine ended the day in fourth place. Also competing was Alan Clothier, Caleb Torneden, Chase Russell and Dustin Walthal.
Sunflower Kids' next competition will be Saturday at the Tournament of Champions held at the Bicentenial Center in Salina. It is considered the toughest tournament in Kansas.
Copyright 2018 The Lawrence Journal-World. All rights reserved. This material may not be published, broadcast, rewritten or redistributed. We strive to uphold our values for every story published.