Washington — Ford Motor Co., extending its push into hybrid technology, said today it was the first automaker to develop a hybrid research vehicle capable of running on ethanol-based fuels.
Ford was to unveil the Escape Hybrid E85 before journalists today at the Washington Auto Show. The vehicle combines hybrid-electric power with the capability of operating on a mixture of 15 percent gasoline and 85 percent ethanol, a corn-based additive.
"This innovative research program could lead to breakthroughs to significantly reduce our nation's dependence on imported oil while also helping to address global climate change," said Anne Stevens, Ford's executive vice president and chief operating officer for the Americas.
Ford, which outlined a major restructuring plan Monday that would cut up to 30,000 jobs and close 14 plants by 2012, has delved deeply into hybrid vehicles. In 2004, it introduced the first hybrid sport utility vehicle, the Escape Hybrid, and is expected to produce 250,000 hybrids a year by the end of the decade.
The nation's No. 2 automaker plans to produce 250,000 ethanol-capable vehicles this year, including the Ford F-150 pickup truck, Ford Crown Victoria sedan, the Mercury Grand Marquis and the Lincoln Town Car.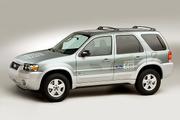 Backers of ethanol say it's a clean-burning fuel that helps Midwest farmers while reducing the nation's dependence on foreign oil and cutting greenhouse gas emissions. But critics say the fuel is a waste of $3 billion a year in state and federal subsidies and question whether ethanol takes more energy to make than it produces.
Ford said the technology offers real potential, estimating that oil imports could be reduced by about 140 million barrels a year if 5 percent of the U.S. vehicle fleet were powered by hybrids using the E85 ethanol fuel instead of gasoline.
The automaker said ethanol-fueled hybrids also could help reduce greenhouse gas emissions, estimating the vehicle would produce about 25 percent less carbon dioxide by using the combination fuel.
The vehicle is not currently slated for production, but Ford said it could quickly produce the vehicle if there were improvements to the infrastructure of ethanol pumps around the nation, enough ethanol production and consumer demand.
"If the government and the infrastructure is there, the technology is there today to go as far as we want to go with this," Stevens said.
Copyright 2018 The Associated Press. All rights reserved. This material may not be published, broadcast, rewritten or redistributed. We strive to uphold our values for every story published.