Denver — They knew it was coming. They knew what to do about it. And now they're headed to the Super Bowl.
After watching the Denver Broncos batter New England quarterback Tom Brady and knock the Patriots out of synch last weekend, the Pittsburgh Steelers spent the days leading into the AFC Championship game watching something else: lots of film.
Boy, did it help.
With the linemen and running backs picking up the Broncos when they blitzed and Ben Roethlisberger picking apart the secondary when they did get through, the Steelers earned their first trip to the Super Bowl in 11 years with a 34-17 victory over the Broncos on Sunday.
"We studied it all week, so we were ready for the blitz," Steelers receiver Hines Ward said. "If they ran it, we were going to adjust to it and make big plays on it."
They sure did.
The Broncos blitz more than any team in the NFL and used their aggressive defense to get into the AFC title game, rattling Brady with hard hits and forcing him into quick passes with constant pressure. The result was a 27-13 victory in the second round of the playoffs, giving Denver its first playoff victory since John Elway retired in 1999.
But the Steelers were ready for Denver's pressure, setting up their linemen in the places Denver likes to blitz from and filling running backs into the gaps that were missed. Denver had plenty of success sending safety John Lynch against the Patriots, but most of its blitzes against the Steelers were by linebackers up the middle, making it easier for Pittsburgh to pick up.
And even when the Steelers didn't pick up the blitz, Big Ben made sure the Broncos didn't have a chance.
Hitting receivers and running backs on hot routes or stepping up in the pocket to let the hard-charging Broncos rush by, Roethlisberger repeatedly hit his receivers before Denver hit him. Of Pittsburgh's 20 first downs, 10 came on passes from Big Ben against the blitz, including a 12-yard touchdown pass to Cedric Wilson that put Pittsburgh up 10-0 early in the second quarter.
Roethlisberger was sacked twice and finished 21-for-29 for 275 yards and two touchdowns.
But then that's no surprise. Roethlisberger was 58-for-96 for 760 yards and four touchdowns when opponents blitzed during the regular season.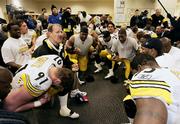 "The pressure's on because he knows guys are coming free when they come with that all- out blitz," Steelers guard Alan Faneca said. "He knows he's going to get hit and he still has to make the right pass and the receiver has to run the right route. And you get that six yards and that's big. You gain yardage instead of losing it."
The Steelers also are known for their blitzing packages, and the Broncos didn't do as well picking it up.
"They were bringing some good looks and getting after it, and we had to kind of abandon the run," said Broncos QB Jake Plummer, who had seven interceptions and two fumbles during the regular season. "And when you're one-dimensional, it's kind of easy as a defense to pin their ears back and come. Against a defense like that, it's hard to get going."
Copyright 2018 The Lawrence Journal-World. All rights reserved. This material may not be published, broadcast, rewritten or redistributed. We strive to uphold our values for every story published.