A business willing to cut a check for six figures can get its name attached to one of the nation's oldest track-and-field events.
Mike Vickers, co-owner and vice president of Star Gameday, is busy lining up sponsors large and small for the Kansas Relays, set for April 20-22 at Memorial Stadium in Lawrence.
Landing a title sponsor is high on the to-do list.
"Then it's your event," he said. "It's the 'McDonald's Kansas Relays,' or whatever. And that's big. We're taking it up a notch. If they invest in it, they will get a return on their investment - a great return on their investment."
Star Gameday signed on this month to handle sponsorships and marketing for the Relays, which last year drew more than 600 teams, with more than 5,500 athletes and nearly 25,000 attendees. Terms of the one-year deal were not disclosed.
The goal is to build revenue by building the Relays brand through increased marketing and broadened participation.
"We're taking a business approach," said Tim Weaver, the Relays' meet director. "This is where we can get a jump on the competition."
The agreement marks a step up for Star Gameday, and a step out for Kansas Athletics Inc., which runs athletics programs at Kansas University.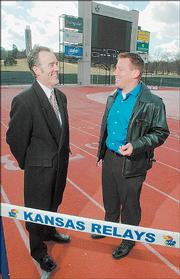 The athletics department, with an annual operating budget of $40 million, has an existing agreement with ESPN Regional to handle marketing and sponsorships for the school's two biggest programs, football and basketball, and their permanent venues, Memorial Stadium and Allen Fieldhouse.
In exchange for having access to such high-profile programs, ESPN Regional pays the athletics department more than $5 million a year.
Previously, other KU sports have had their marketing and sponsorships handled by the department itself.
But with the Relays poised for even broader appeal - last year's event was the second largest in its 78-year history - officials are looking to attract more interest, more fans and more revenue by bringing in some outside assistance.
The extra money will be used throughout the event: bolstering appearance fees for elite professional athletes, upgrading medals, and defraying costs for dozens of other responsibilities.
"It can help make the difference between a first-class meet and any other meet," said Jim Marchiony, an associate athletics director at KU. "That's what this agreement can help do."
To get the job done, Kansas Athletics turned to Star Gameday, which already handles sponsorships for the Shawnee Mission school district and has been looking to land such a high-profile partner. The Lawrence-based company is a division of Star Media Group, which is co-owned by Vickers and Shelley Rosdahl, and is affiliated with Vickers' longtime signs business, Star Signs & Graphics Inc.
Besides locating sponsors, Star Gameday is looking to field other events associated with the Relays, from live-music performances to racing events for public participation. Such events - a 10K race or a marathon, for example - could lead to even more sponsorship opportunities.
"We're a team with the Relays," Vickers said.
Copyright 2018 The Lawrence Journal-World. All rights reserved. This material may not be published, broadcast, rewritten or redistributed. We strive to uphold our values for every story published.