TALLAHASSEE, FLA. — Reyshawn Terry got the message: Big-time players make plays when it counts.
With 11,589 mostly hostile fans screaming at Terry, the North Carolina junior made two free throws with 23 seconds left to lift the 24th-ranked Tar Heels to an 81-80 victory over Florida State on Sunday night.
"The fans were definitely into the game a whole lot more this year," Terry said. "They really thought we were just drained out and didn't have anything left."
But Terry was thinking about coach Roy Williams' talk with him earlier.
"He wants people to rely on me," Terry said. "He said I'm a big-time player. I feel like that's my part ... to step up to the challenge."
And Terry couldn't remember ever being in a similar position.
"I just tried to relax," he said. "I was fortunate."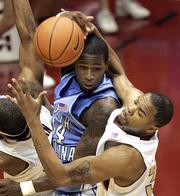 Wes Miller led the Tar Heels (11-4, 3-2 Atlantic Coast Conference) with a career-high 18 points, and Terry added 17 points and eight rebounds. Miller got all of his points from outside, hitting six of 10 from three-point range.
Alexander Johnson connected on two foul shots with 39 seconds to play to give the Seminoles an 80-79 lead, setting the stage for Terry. Al Thornton's desperation jumper from the top of the circle in the final seconds was well off the mark for Florida State (11-4, 2-3), which lost its first game at home this season.
"It's painful, to lose a close game like this," Seminoles coach Leonard Hamilton said.
"Close is not what we're trying to do. You've got to get over the hump by winning these types of games."
Florida State's three ACC losses are by a total of 10 points.
The Seminoles hit 10 of their first 11 shots, building a 25-13 lead and led 50-37 in the final seconds of the half before North Carolina scored the final five points before the break.
"We stayed together as a team and that's what it's all about especially in a hostile environment like this arena," Miller said. "You've got to stay together, because you're never out of the game and we proved that was the case tonight."
The Tar Heels kept up their push in the second half.
David Noel's dunk gave North Carolina a 69-61 lead and finished off a 32-11 surge that started before halftime.
Isaiah Swann scored 17 of his 19 points in the first half for the Seminoles and Thornton also finished with 19.
North Carolina had five players in double figures and shot a season-high 55.6 percent.
Freshman center Tyler Hansbrough had 15 points, Danny Green 11, and Byron Sanders scored 10 for the Tar Heels.
Copyright 2018 The Associated Press. All rights reserved. This material may not be published, broadcast, rewritten or redistributed. We strive to uphold our values for every story published.