She's only four months old, but Andromeda already is embarking on a lifelong career.
The black, female Labrador retriever is undergoing basic training for use as either a guide or service dog for people with vision and physical disabilities.
"They are very easy to train. They want to please people," Margaret Thorp said as she watched the dog amble around the yard of her Old West Lawrence home and play with two older Labs she and her husband, Jim Thorp, have as pets.
"There's a lot of baby dog behavior we have to modify," Margaret Thorp said.
Several weeks ago the Thorps applied to become puppy raisers for KSDS Inc., a nonprofit firm that breeds and trains guide and service dogs and then places them with clients.
There also is a third career option. Andromeda could be used for breeding and be a mother to future generations of guide and service dogs. The Thorps would prefer that option, and their reason is a simple one.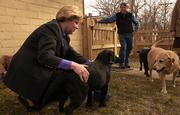 "It's hard to give them up," Margaret Thorp said.
The Thorps have been through this before. Several years ago while living in New York state, they raised a guide dog for an agency similar to KSDS. When the time came they hated to give up the dog. If Andromeda becomes a breeder dog, then she would only be away from the Thorps for short periods. She would be taken for periodic breeding at KSDS in Washington, Kan., and then returned to the Thorps.
But for now the Thorps will conduct Andromeda's early training. Most of it is pretty basic. They will teach the dog to walk beside her masters, sit and retrieve objects. Considering Labs are hunting dogs, retrieving is no problem, the Thorps said.
"They are smart," Margaret Thorp said. "They like to put things in their mouths and carry them."
Service dogs are used by people with physical handicaps and who may be confined to a wheelchair. The service dogs will be required to retrieve certain objects such as a telephone or even open a door for their master. Someone with physical disabilities may even have to lean on the dogs to get up from a chair or floor.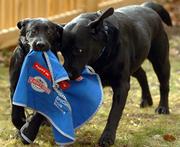 Guide dogs are given to people who are blind or have serious vision problems. Their training is more detailed. For example, they must know when to lead their master across a busy street. They even have to judge when a tree limb might be low enough to present a problem to their human partner.
KSDS breeds and trains only Labs and golden retrievers. Those breeds are considered to be the right size for the job, and they also have the smarts and the pleasant demeanor needed for service and guide work.
There is a high demand for the dogs, Carrie Powe, spokeswoman for KSDS, said. Currently, the service has 105 service dogs and 24 guide dogs at work.
"We currently have more demand for service dogs," Powe said. "Both breeds are equally as likely to work as either guide or service dogs."
The Thorps are among 65 puppy-raisers used by KSDS. There are several in the Lawrence and Kansas City area. The puppy-raisers volunteer their time and home to train the dogs. Dog food is provided to them free by the makers of Science Diet. Heartworm prevention medication is provided free, but the puppy-raisers pay for flea, tick and other treatments. Some veterinarians donate their services or give reduced rates for specialty dogs.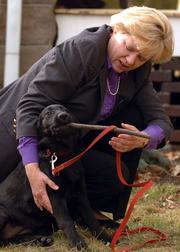 The Thorps will work with Andromeda for up to two years before she moves on to KSDS for additional training or for breeding. In addition to teaching her basic commands, they will be taking Andromeda into stores and restaurants and getting her used to stairs and escalators.
"They have to be calm and sociable," said Margaret Thorp. "You don't want them to jump on people or go off chasing squirrels. We're trying to expose her to all the situations so she takes everything in stride."
Andromeda has been with Margaret Thorp, a Lawrence attorney, and Jim Thorp, a Kansas University professor in the department of ecology and evolutionary biology, for only two weeks.
"She's doing well," Margaret Thorp said.
Widespread organization
KSDS Inc. was formed 15 years ago as Kansas Specialty Dog Service. Today references to the nonprofit firm generally use only the initials. That's because the full name indicates it is only Kansas oriented, and that's not the case. KSDS has placed dogs with clients not only in Kansas, but in several other Midwest states and as far away as Oregon and New Mexico. Most of the dogs are bred and receive advanced training at KSDS in Washington, Kan. Each dog receives 120 hours of training time. The price tag for a fully trained dog is $15,000. That includes the cost of training, staff, housing, veterinary care, equipment, travel, team training and class. KSDS accepts donations to help with the costs. Kansas Lions Clubs are major donors. A client receiving a guide or service dog does not have to buy the dog. Someone receiving a guide dog spends three weeks training with the dog at KSDS. It takes two weeks of training for clients receiving a service dog.
Copyright 2018 The Lawrence Journal-World. All rights reserved. This material may not be published, broadcast, rewritten or redistributed. We strive to uphold our values for every story published.